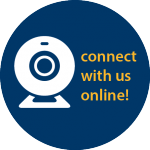 How to Apply Webinars
Do you have questions about applying to one of Michener's full-time programs? If so, sign-up for one of our How to Apply Information Webinars to learn more about the application process and important deadlines.
Webinars will be held in December 2018 and January 2019. Please check back for dates and times.
PLEASE NOTE: These webinars are online only. They do not take place onsite at The Michener Institute.
Date
Time
Webinar Link
TBD
TBD
Register 1
TBD
TBD
TBD
TBD
TBD
TBD
TBD
TBD

 A representative from The Medical Radiation Sciences program will be available to answer questions about applying to Radiation Therapy, Radiological Technology and Nuclear Medicine at a few webinars. Dates to be determined.

TBD
TBD
International Student Admissions Webinar
Are you an international student interested in applying to The Michener Institute?  Do you have questions about your application?  Learn more about the admissions process, student life, and what makes Michener unique!  Join us for an online Webinar.
Topics covered include:
Application process
Document Assessments
English language policy
Skype Interview for MMI
Please note that times listed are in Eastern Daylight Time (EDT).  You can use this time zone converter to figure out the equivalent time in your time zone.