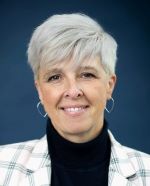 Christine Bruce – Biography coming soon.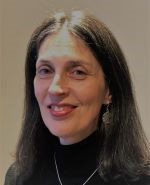 Fiona Cherryman –
Fiona Cherryman is the Head of Academic Affairs and Operations at the Michener Institute of Education at UHN. Fiona has a clinical background as a Radiation Therapist and has most recently co-led the introduction of new academic programs including the Advanced Foot and Wound Care Fellowship, and the Digital Health and Data Analytics programs. She successfully co-led Michener's first application to offer a Master of Science in Cardiovascular Perfusion. Fiona is currently excited to co-lead Michener's academic strategy that is focussed on meeting Health Human Resource needs in Ontario and beyond.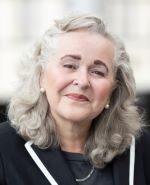 Christine Cursio obtained her Bachelor's Degree in Science from the University of Toronto in 1982. She then went on to complete the program in Medical Laboratory Technology from the Michener Institute and is registered with the College of Medical Laboratory Technologists of Ontario.
Chris's career began as a lab technologist in 1984 with the Department of Clinical Biochemistry at Toronto General Hospital where she performed as a general duty technologist.
Since moving into her POCT (point of care testing) role in 2000, she has overseen the implementation of standardized POCT programs across UHN and guides and consults on POCT for various external LMP clients beyond UHN.
Chris has lead the POCT program at UHN through various laboratory and hospital accreditations including the Accreditation Canada – Diagnostics (formerly IQMH) Program and the College of American Pathologists accreditation program.
Chris assumes the role of Manager of POCT at UHN in what she refers to as the ever evolving world of point of care testing.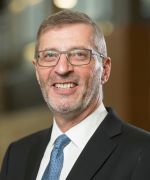 Fergall Magee completed a Residency in Anatomic Pathology in UBC, followed by Pediatric Pathology at BCCH, and a staff position in that institution for 10 years. While there he was involved in Pathology and Pediatric Residency Training, Fellowship Training for Pediatric Pathology, Surgery and Oncology. He completed a Masters in Clinical Epidemiology at the UBC School of Population and Public Heath (Resource Allocation for Child Health and Lab Med) and was attached to the UBC Medical School Expansion Office
In 2005 he relocated to IWL Health Centre/Dalhousie with a primary appointment in Pathology and Laboratory Medicine and cross appointments in Pediatrics and Bioethics. In 2013 he was appointed Division Head of Anatomic Pathology in Saskatoon, in 2015 he was appointed Department Head of Pathology and Laboratory Medicine, University of Saskatchewan, and in 2018 was appointed Provincial Head of Laboratory Medicine of Saskatchewan.
He is currently has affiliations with Children's Oncology Group (COG), International Society for Prenatal diagnosis (ISPD) and chairs the Credentials Committee of RCPSC.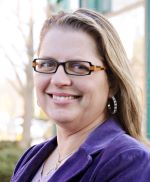 Christine Nielsen became Chief Executive Officer of the Canadian Society for Medical Laboratory Science in 2010. Prior, she was Director of Certification for seven years, with a brief stint as Deputy Registrar for the College of Medical Laboratory Technologists of Ontario.
Trained as a medical laboratory technologist, she then completed a degree in Health Admin, a Certificate of Mastery in Prior Learning Assessment from DePaul University in Chicago, and is a Certified Association Executive (CAE) since 2008. She is currently completing an MBA from Heriot-Watt, Edinburgh Business School, Scotland.
Christine is past Chair of CNAR – the Canadian Network of Associations of Regulators, Ottawa. She is also an experienced Prior Learning Assessment Assessor with the Canadian Society for Association Executives (CSAE). One of her newest challenges is joining the Oakville & Trafalgar Humane Society, while serving the Michener Alumni Association for 22 years!