1st Annual Toronto Orthopaedics Comprehensive Knee Course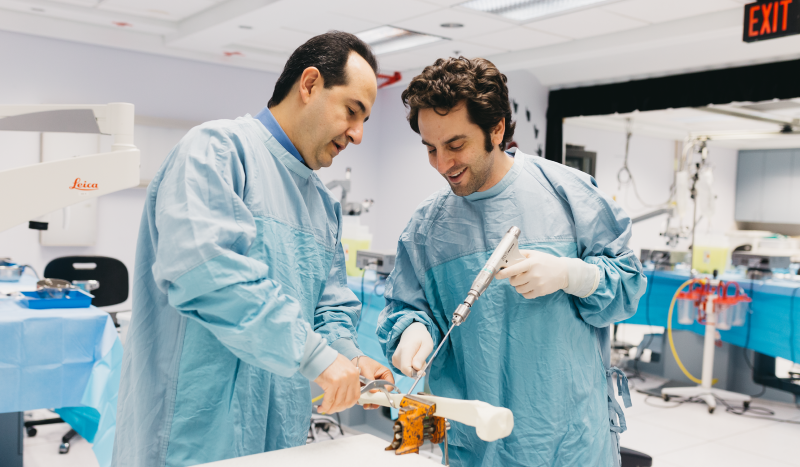 1st Annual Toronto Orthopaedics Comprehensive Knee Course:
at a glance
Credential(s) Earned
Certificate of Completion
Program Length
1 Day
Start Date
Saturday, March 21st, 2020
Tuition
No Fees Required - By Invitation to University of Toronto and McMaster University Arthroplasty Fellows Only
Description
This one-day comprehensive, immersive learning experience has been designed to advance the knowledge and practice of Clinical Fellows in the Division of Orthopaedic Surgery at the University of Toronto and McMaster University.
Keynote Speaker – Dr. David Backstein
Faculty
Dr. Bheeshma Ravi
Dr. Raman Mundi
Dr. Herman Dhotar
Dr. Vickas Khanna
Dr. Daniel Tushinski
Dr. Sarah Ward
Dr. Sebastian Tomescu
Program Co-Chairs & Faculty 
Dr. Amir Khoshbin
Dr. Jesse Wolfstadt
Dr. Mike Zywiel
This course has been postponed.
When a new date is determined a new registration link will be circulated to trainees. If you have any questions please email
surgicaled@michener.ca
.
The 1st Toronto Orthopaedics Comprehensive Knee Course is comprised of both didactic and hands-on cadaveric surgical skills stations.
Participants will engage in interactive, evidence-based didactic sessions covering the current state of the art for arthroplasty care of patients with knee arthritis and related pathology.
In the hands-on skills lab, participants will have the opportunity to practice surgical approaches and techniques for primary total knee arthroplasty, unicompartmental knee arthroplasty, and patellofemoral joint arthroplasty in small groups under the guidance and direction of surgical faculty from the University of Toronto Division of Orthopaedics. As well, participants will gain experience with extensile exposures and revision total knee replacement.  They will also have the opportunity to gain hands-on experience with a variety of primary and revision knee implants from five different vendors.  Each station will have an assigned instructor to provide dedicated skills development feedback along with insights into a variety of tips and tricks to ensure successful outcomes with primary and revision knee replacement.
Clinical Fellows in hip and knee arthroplasty from the University of Toronto and McMaster University.
At the end of the program, participants will be able to:
make evidence-based recommendations to enhance surgical efficiency and patient recovery after knee arthroplasty
employ clinical reasoning to formulate a surgical treatment plan for specific case-based scenarios in knee arthroplasty, including choice of surgical technique and implant
apply clinical and surgical tips and tricks to enhance workflow, and address both expected and unexpected intra-operative challenges
Time
Agenda Item
6:30am – 7:15am
Registration, Breakfast + Sponsor/Exhibitor Room Open
(Please ensure time to change into lab clothes)
7:15am – 7:25am
Welcome / Opening Remarks
Program Co-Chairs
7:25am – 8:10am
Keynote Address:  Dr. David Backstein
Didactic Session
8:10am – 8:25am
Talk 1: Managing intra-operative complications
Dr. Sarah Ward
8:25am – 8:40am
Talk 2: Assessment and treatment of the painful TKA
Dr. Vickas Khanna
8:40am – 8:55am
Talk 3: Partial knee replacement: patient selection and outcomes
Dr. Michael Zywiel
8:55am – 9:10am
Talk 4: Osteotomies about the knee
Dr. Sebastien Tomescu
9:10am – 9:25am
Talk 5: Extensor mechanism reconstruction with polypropylene mesh
Dr. Jesse Wolfstadt
9:25am – 9:45am
Break + Sponsor/Exhibitor Room Open
9:45am – 11:45am
Lab Session #1
Primary Partial and Total Knee approaches and techniques
11:45pm – 12:15pm
Lunch + Sponsor/Exhibitor Room Open
12:15pm – 1:00pm
Working Lunch

Primary Knee Case Review
Moderators: Drs. Amir Khoshbin and Michael Zywiel

All Faculty
1:00pm – 3:00pm
Lab Session #2
Extensile/Revision/Salvage Total Knee approaches and techniques
3:00pm – 3:15pm
Break + Sponsor/Exhibitor Room Open
3:15pm  – 4:15pm
Complex Revision Case Review
Moderator: Dr. Jesse Wolfstadt
All Faculty
4:15pm – 4:30pm
Closing Remarks
Program Co-Chairs
We are honoured to have Dr. David Backstein as our Keynote Speaker for the first annual Toronto Comprehensive Knee Course.
Dr. Backstein is an orthopaedic surgeon at Mount Sinai Hospital with a special interest in complex primary and revision total knee replacement. He serves as the Division Head of the Granovsky Gluskin Division of Orthopedics at Mount Sinai Hospital and the Medical Director of the Musculoskeletal Centre of Excellence at the Sinai Health System. He holds the rank of Associate Professor of Surgery at the University of Toronto. Dr. Backstein completed the prestigious John Insall Travelling Knee Fellowship and is an elected member of the American Knee Society.
Through his renowned career, Dr. Backstein has published extensively in the areas of surgical education and revision total knee replacement, contributed to the development of knee implants systems as a design surgeon, received numerous teaching awards and invited moderator and speaking engagements, and has been awarded numerous research grants. He has served as an Associate Editor for the Journal of Arthroplasty, Deputy Editor for Clinical Orthopaedics & Related Research and reviewer for JAAOS, Knee and the Journal of the American Medical Association.  Dr. Backstein has been invited to numerus national and international meetings to share his expertise in Knee and Hip Arthroplasty.  We are thrilled to have Dr. Backstein as the inaugural Keynote Speaker.
Saturday, March 21, 2020, 6:30am to 4:15pm
We are pleased to host the 1st Toronto Orthopaedics Comprehensive Knee Course at the:
Mount Sinai Surgical Skills Centre
600 University Ave, Level 2
Toronto, ON
(take the elevators near the Murray St entrance down to level 2)
Note:  Paid parking is available on  Murray Street at several lots.