Introduction to Cannabis – Webinar Series
Course Information
Course Code
CANN100
Instruction Method
5 pre-recorded online webinar videos | Each webinar is roughly 1 hour in length | From registration date you have 6 weeks to view the webinar series | Login information will be emailed within 3 business days of registration
Fee
$199
Length
Continuous Enrollment - From registration date you have 6 weeks to view the webinar series
Instructor(s)
Sabrina Ramkellawan and Dr. Carolina Landolt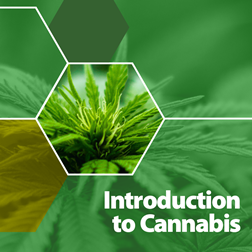 Learner Outcomes
In this series, you will explore:
I. The History & Science of Cannabis
II. The Regulations & Legalities of Cannabis
III. Medical Cannabis and Therapeutic Use
IV. Medical Cannabis Administration
V. Medical Cannabis Education
Intended For
This webinar series is intended for anyone (health professional or non-health professional) looking to gain an introduction to cannabis, starting with a brief background in the history and science to the education and administration aspect of cannabis.
This webinar series is an introduction to the topic, but it is not a prerequisite for the Cannabis Educator Certificate Program.
---
"Overall the webinar series was very enjoyable I feel I have a greater appreciation and understanding of cannabis. Whether this be educating patients on ROAs or navigating the regulatory landscape or speaking more about the different dosing."
— Cannabis Webinar Student 2018
"Great start to offering formal education in cannabis. Overall the program was interesting and relevant. The topics and curriculum were excellent! I look forward to participating in the certificate program, thank you for offering this program!"
— Cannabis Webinar Student 2018
Courses
| Code | Course Title | Format | Tuition | Date(s) | Register By | Availability |
| --- | --- | --- | --- | --- | --- | --- |
| CANN100-YY1 | Health Professional's Introduction to Cannabis Webinar Series | Online | $199.00 | Jul-23-2021 to Jul-23-2022 | Aug-31-2021 | Open |