Introduction to Cannabis – Webinar Series
Course Information
Course Code
CANN100
Instruction Method
5 pre-recorded online webinar videos | Each webinar is roughly 1 hour in length | Login information will be emailed within 3 business days of registration
Fee
$199
Length
Continuous Enrollment - From registration date you have 6 weeks to view the webinar series
Instructor(s)
Sabrina Ramkellawan and Dr. Carolina Landolt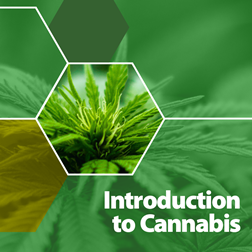 Learner Outcomes
In this series, you will explore:
I. The History & Science of Cannabis
II. The Regulations & Legalities of Cannabis
III. Medical Cannabis and Therapeutic Use
IV. Medical Cannabis Administration
V. Medical Cannabis Education
Intended For
This webinar series is intended for anyone (non-health or health professional) looking to gain an introduction to cannabis, starting with a brief background in the history and science to the education and administration aspect of cannabis.
This webinar series is an introduction to the Cannabis Educator Certificate Program.
There are no required prerequisites for this webinar series.
Courses
| Code | Course Title | Format | Tuition | Date(s) | Register By | Availability |
| --- | --- | --- | --- | --- | --- | --- |
| CANN100-YY1 | Health Professional's Introduction to Cannabis Webinar Series | Online | $199.00 | Sep-01-2020 to Aug-31-2021 | Aug-31-2021 | Open |