Introduction to Cannabis – Webinar Series
Course Information
Course Code
CANN100
Instruction Method
5 pre-recorded online webinar videos | Each webinar is roughly 1 hour in length | From registration date you have 6 weeks to view the webinar series | Login information will be emailed within 3 business days of registration
The webinar series has been discontinued.
Fee
$199
Length
Continuous Enrollment - From registration date you have 6 weeks to view the webinar series- No longer available
Instructor(s)
Sabrina Ramkellawan and Dr. Carolina Landolt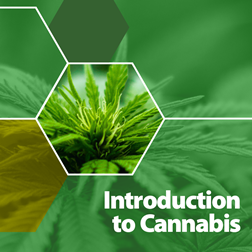 Learner Outcomes
In this series, you will explore:
The History & Science of Cannabis
The Regulations & Legalities of Cannabis
Medical Cannabis and Therapeutic Use
Medical Cannabis Administration
Medical Cannabis Education
Intended For
The webinar series is no longer available.
This webinar series is intended for anyone (health professional or non-health professional) looking to gain an introduction to cannabis, starting with a brief background in the history and science to the education and administration aspect of cannabis.
This webinar series is an introduction to the topic, but it is not a prerequisite for the Cannabis Educator Certificate Program.
---
"Overall the webinar series was very enjoyable I feel I have a greater appreciation and understanding of cannabis. Whether this be educating patients on ROAs or navigating the regulatory landscape or speaking more about the different dosing."
— Cannabis Webinar Student 2018
"Great start to offering formal education in cannabis. Overall the program was interesting and relevant. The topics and curriculum were excellent! I look forward to participating in the certificate program, thank you for offering this program!"
— Cannabis Webinar Student 2018

Note:
The webinar series is no longer available.
COVID Vaccine Requirement:
Proof of full vaccination will be required.
Instructions to upload proof of COVID vaccination to Self Service
Registration instructions:
Select button "View Available Sections and Registration"
This page contains 3 boxes. Click on the "Sign In" box
If you have a Self service account, sign in here. If you do not, then create an account.
Select your course/section by clicking the "Add" button which will send the course to your cart.
To move on to payment, click the blue "Register" button.
Once payment has been processed, registration is complete.