Intraoperative Neurophysiological Monitoring (IONM) Certificate Program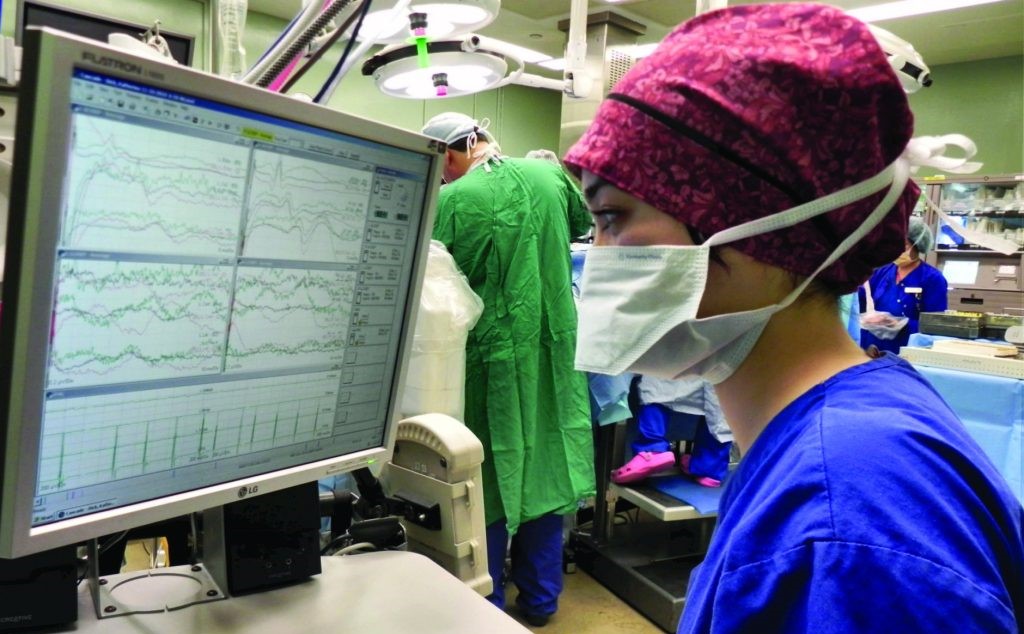 Intraoperative Neurophysiological Monitoring (IONM) Certificate Program:
at a glance
Credential(s) Earned: Certificate
---
Program Length: 2 years
---
Tuition: Tuition is payable on a course-by-course basis
---
Description
The Michener Institute and the Canadian Association of Neurophysiological Monitoring (CANM) have partnered to offer a one of a kind online certificate program in intraoperative neurophysiological monitoring (IONM).
Qualified IONM practitioners help prevent surgical injury that can result in deficits such as paralysis. By continuously assessing the patient's nervous system responses, IONM practitioners can alert the surgeon to unexpected changes, allowing for timely interventions. This work is expanding quickly in operating rooms around the world and is vital for protecting patients during high risk surgery.
The Intraoperative Neurophysiological Monitoring Certificate Program will help prepare you for a career in IONM.
Please note: the program is on hold. There will be no 2022 intake.
Some of the professions this program might appeal to and/or have successfully completed the program and transitioned into the field include:
Nurses
Kinesiologists
Neuro-Diagnostic Technologists
EEG Technologists
Anesthesia Assistants
Neurophysiologists
Physician Assistants
Medical Lab Technologists/Assistants
Rehab Therapists
Admission Requirements:
(All applications will be reviewed by Michener with final approval by the CANM Admissions Board.)
Applicants must meet one of the following requirements:
Currently practicing intraoperative neurophysiological monitoring with an accredited hospital 

or



Full CANM membership (please visit the CANM website for membership criteria) or

Bachelor's degree in a health-related field (with preference given to courses in human anatomy and physiology or other health sciences)
Note: The same admission criteria apply to individual courses.
Program Requirements:
Students must have access to a computer that meets the minimum system requirements, and access to the Internet.
Please note: the program is on hold. There will be no 2022 intake.
Please submit the following to Michener:
All applicants:
Completed Michener Application Form
Detailed resume
Clear identification of the Admission Requirement under which you are applying (1, 2, or 3 above)
Proof of an English language assessment (if applicable*)
A $35 non-refundable application fee
In addition:
1. Applicants currently practicing intraoperative neurophysiological monitoring (IONM) with an accredited hospital require a letter from their employer confirming the length of time employed directly in IONM, and the estimated hours per month.
2. Full CANM members require proof of CANM Full Member status.
3. Applicants who are applying with a Bachelor's degree in a health-related field require:
i) official transcripts
Note: If you are an internationally educated applicant, please be aware that you must have a full Course by Course evaluation of your university transcripts by the World Education Service (WES) or a Comprehensive evaluation from the International Credential Assessment Service (ICAS). Documents must be evaluated to Canadian standards.
ii) a 500-word essay outlining why you are seeking a career in intraoperative neurophysiological monitoring and how you feel your background and experience are suited to this career
Your application should be sent to:
Office of the Registrar – The Michener Institute of Education at UHN
222 St. Patrick Street
Toronto, ON
M5T 1V4 Canada
Fax: (416) 596-3122
Email: admissions@michener.ca
*Applicants for whom English is a second language must meet Michener's English language proficiency requirements, providing proof of an English language assessment if required. Please visit the Internationally Educated Applicants page for more information.
Please note, the application process for international students is slightly different. Visit the international admissions page for more information.
If you have questions regarding the program or application process, please contact ce@michener.ca
Please note: the program is on hold. There will be no 2022 intake.
Tuition is payable on a course-by-course basis and includes access to program materials (with the exception of required textbooks), instructor support, and evaluation.
Individual courses are offered at a rate of $1,500 CAD per course for domestic students and $2,250 CAD per course for international students.
The six-course online program comprises the following courses (to be taken in order):
 Courses
2020 Cohort
IONM 110 Clinical Sciences for Intraoperative Neurophysiological Monitoring
September – December 2020
IONM 120 Basic Principles of Intraoperative Neurophysiological Monitoring
January – April 2021
IONM 130 Intraoperative Neurophysiological Monitoring Modalities I
April – July 2021
IONM 140 Intraoperative Neurophysiological Monitoring Modalities II
September – December 2021
IONM 150 Considerations for Intraoperative Neurophysiological Monitoring
Start Date:
10 January 2022
End Date:
10 April 2022
Register By:
5 January 2022
IONM 160 Advanced Topics in Intraoperative Neurophysiological Monitoring
Start Date:
2 May 2022
End Date:
31 July 2022
Register By:
28 April 2022
Note: Full CANM members are permitted to take courses individually and non-sequentially with or without applying for the Certificate.
COVID Vaccine Requirement:
Proof of full vaccination will be required.
Instructions to upload proof of COVID vaccination to Self Service