2017 Respiratory Therapy Week
October 22, 2017

-

October 28, 2017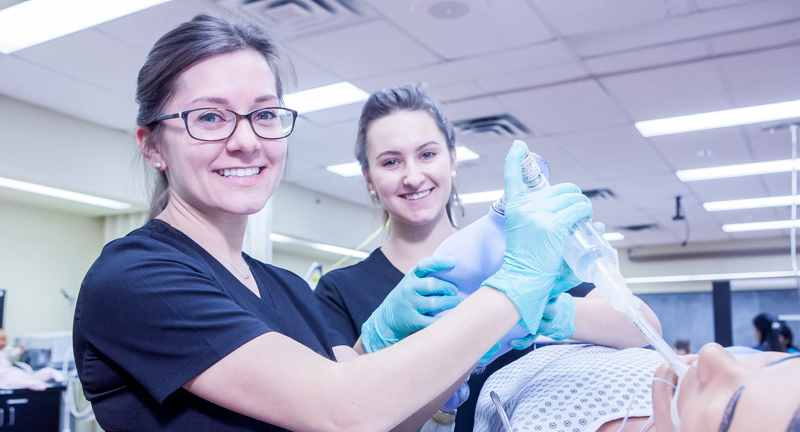 October 22 to 28 is National Respiratory Therapy Week
The Michener Institute's St. Patrick Campus is kicking off Respiratory Therapy (RT) week early on Friday, October 20 with the Annual Stethoscope Ceremony. This ceremony marks a rite of passage in the students' professional careers, where they will have their stethoscopes placed around their necks by a Registered Respiratory Therapist and recite the Respiratory Therapy Student Oath.
Other events at the St. Patrick Campus throughout the week include:
The RT Olympics, where students compete in teams to perform RT skills – always a frenzied and fun time.
Bake sale on Monday (12 to 1 p.m.) and Tuesday (1 p.m. until sold out), as well as an information booth, all in the lobby. The treat trolley is back again for door-to-door baked goods in case you can't get down to the lobby.
Pancake breakfast on Thursday from 8 to 10 a.m. outside of Bistro 222. $3.00. for two pancakes with assorted toppings.
We're continuing the fun the following week. On November 1 from 12 to 2 p.m., join us for a dodgeball game in the gym: everyone is welcome! For a $2 donation you can meet new friends and take part in a game of dodgeball. All funds raised from these events will support Respiratory Therapists Without Borders.
We'll be rounding out Respiratory Therapy Week on October 28 with a group of students attending a simulation session at the 2017 CHEST Conference, an international conference for clinical chest medicine happening in Toronto. Students and faculty will also attend the conference the following week.
A schedule of events for RT Week will be posted in the elevators and on the digital screen in the lobby. Help us to celebrate the Respiratory Therapy profession by joining in the activities!