AI Enabled Care: Building Collaboration for Deeper Learning and Better Care
Date: Thursday, April 29th, 2021 at 11-2pm EST
Location: Virtual
Hosted by: Michener Institute of Education at UHN, Vector Institute , IVADO
Supported by: Future Skills Centre
This inaugural Symposium aims to explore the theme building collaboration for deeper learning and better care. The event will feature a panel discussion, highlighting the expertise of those working with AI from across the country. Panelists will share their experiences with AI implementation and adoption into practice, followed by an interactive discussion and Q&A from Symposium attendees.
The objectives are to:
Engage in a national dialogue on AI adoption in healthcare
Promote AI innovation in Canadian healthcare
Discuss leveraging AI to provide compassionate and high quality care
Who Should Attend
Healthcare providers, leaders, researchers
Champions of AI implementation
Healthcare policy makers
Healthcare industry partners
Keynote Speaker: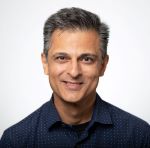 Muhammad Mamdani, PharmD, MA, MPH
Vice President – Data Science and Advanced Analytics at Unity Health Toronto
The Odette Chair in Advanced Analytics
Faculty Affiliate – The Vector Institute
Professor, University of Toronto
Dr. Mamdani is Vice President of Data Science and Advanced Analytics at Unity Health Toronto. Dr. Mamdani's team bridges advanced analytics including machine learning with clinical and management decision making to improve patient outcomes and hospital efficiency. Dr. Mamdani is also Professor in the Department of Medicine of the Faculty of Medicine, the Leslie Dan Faculty of Pharmacy, and the Institute of Health Policy, Management and Evaluation of the Dalla Lana Faculty of Public Health. He is also adjunct Senior Scientist at the Institute for Clinical Evaluative Sciences (ICES) and a Faculty Affiliate of the Vector Institute, which is a leading institution for artificial intelligence research in Canada.
Dr. Mamdani holds a Doctor of Pharmacy degree from the University of Michigan, a fellowship in pharmacoeconomics from the Detroit Medical Centre, a Master of Arts degree in econometric theory from Wayne State University, and a Master of Public Health from Harvard University with a focus on statistics and epidemiology. He has previously been named among Canada's Top 40 under 40. Dr. Mamdani's research interests include pharmacoepidemiology, pharmacoeconomics, drug policy, and the application of advanced analytics approaches to clinical problems and health policy decision-making. He has published nearly 500 studies in peer-reviewed healthcare journals.
Panelists: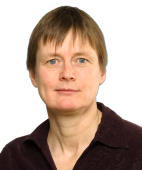 Anne Martel, PhD
Sunnybrook Research Institute
University of Toronto
Vector Institute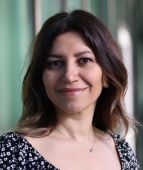 Aline Talhouk, PhD
University of British Columbia
OVCARE
Michael Smith Foundation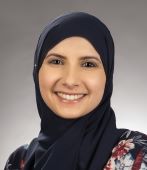 Kathy Malas, M.P.O., GCHIthMgt
CHUM – Centre hospitalier de l'Universite de Montreal
CRCHUM – Centre de Recherche du CHUM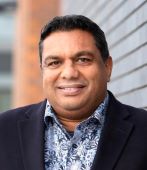 Reg Joseph, BSc, MBA
Health City
AI Enabled Care Symposium Agenda
For more information email: acceleratingAI@michener.ca.
Unique partnership aims to embed Artificial Intelligence into healthcare practice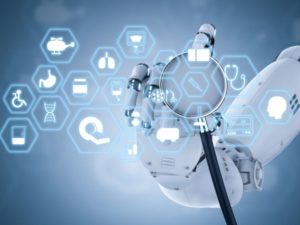 The Michener Institute of Education at UHN and Vector Institute are setting out to transform the skills and capabilities of front-line healthcare professionals in the application of artificial intelligence ("AI") to health services. Thanks to a two-year, $1.52 million grant from Future Skills Canada, the organizations will partner with other healthcare and academic groups to empower a workforce with the knowledge, skills, and capabilities to embed AI in patient care with compassion.
The project, called Accelerating the Adoption of Artificial Intelligence in Healthcare, is a unique opportunity that brings together some of the world's top AI minds in Canada to teach healthcare professionals. This unique partnership combines comprehensive AI and education design expertise with access to real-time clinical practice and patient feedback. The goal is to develop and evaluate new approaches to better equip healthcare organizations and professions with the skills required to accelerate the adoption of new technologies.
"AI-enabled clinical decision-making and expert systems that simulate clinical reasoning are rapidly emerging areas of medicine and clinical care, yet there is a lack of understanding of how AI can and should be used in many healthcare fields and professions," says project co-lead Dr. David Wiljer, Executive Director of Digital Education at The Michener Institute of Education at UHN.
"The potential for AI to transform the delivery of healthcare through predictive and preventive AI therapeutics is tremendous. We believe this project will help fill an enormous knowledge gap in how to educate and train the healthcare workforce to use AI in effective and compassionate ways."
"Vector Institute currently has a number of projects underway with the potential to translate world-class AI research into health benefits for patients. These projects will have the greatest impact if there is an AI-enabled healthcare workforce," says project co-lead Laurent Moreno, Director of Health AI Applications at Vector Institute.
"This is a unique opportunity to combine the expertise of our two organizations," says Roxana Sultan, Vice President, Health at Vector Institute. "Our partnership will facilitate the education of healthcare workers in cutting-edge AI techniques, strengthen health system capacity to achieve the potential benefits of AI in health service delivery, and demonstrate how machine learning can support clinicians in providing better services to Canadian patients."
There are three stages to the project:
The first stage – Transforming the Mindset, will develop a basic AI awareness and literacy training program for clinical staff, aiming to help them embrace the culture of AI.
The second stage – Transforming the Skillset, will involve the development and delivery of advanced AI literacy and training programs.
The third stage – Transforming the Toolset, will develop AI leaders through more intensive training programs. A monitoring and coaching program will also be established to help make the learning 'stick.'
About The Michener Institute of Education at UHN
Established in 1958, The Michener Institute of Education at UHN is Canada's only post-secondary institution devoted exclusively to health sciences education and the only health sciences school within a hospital network in Canada. Michener offers full-time and continuing education in Imaging, Medical Laboratory Sciences, Medical Radiation Sciences, Primary and Critical Care and other specialized applied health programs. With a robust and responsive curriculum that emphasizes inter-professional collaboration and simulation-based training, graduates are prepared to deliver quality diagnostic and therapeutic services. Michener is publicly funded by the Ministry of Health and Long-Term Care and further enriched through partnerships with universities, private sector companies and leading health care organizations. For more information, visit us at michener.ca.
About Vector Institute
Vector Institute is an independent, not-for-profit corporation dedicated to advancing artificial intelligence, excelling in machine learning and deep learning. Our vision is to drive excellence and leadership in Canada's knowledge, creation, and use of AI to foster economic growth and improve the lives of Canadians. The Vector Institute is funded by the Province of Ontario, the Government of Canada through the Pan-Canadian AI Strategy administered by CIFAR, and industry sponsors from across the Canadian economy.
Contact:
Jacqueline Waldorf, Director of Communications & Marketing, The Michener Institute of Education at UHN
Phone: 647-465-9587
Ian Gormely, Communications Specialist, Vector Institute
---
Accelerating the Adoption of Artificial Intelligence in Healthcare is funded by the Government of Canada's Future Skills Centre . Le projet est financé par le Centre des Compétences futures du gouvernement du Canada.