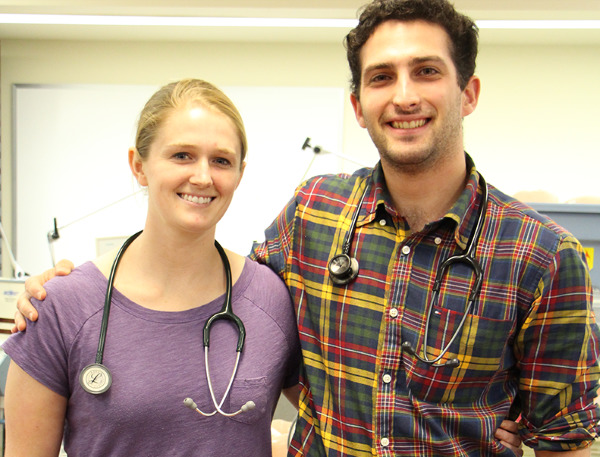 The annual Respiratory Therapy Stethoscope Ceremony is one of Michener's brightest academic traditions. It is an opportunity for students to be reminded of why they entered healthcare, says second year RT student Keara Maguire. "The ceremony gave us the opportunity to think and reflect on the bigger picture of the profession," she says. "It helped to re-inspire the fact that we are doing this to make a difference in people's lives."
Second year RT student Phillip Bailie wrote about his experience of the ceremony and the importance of the stethoscope:
On October 30th, second year Respiratory Therapy students took a symbolic and memorable step forward in their program. Surrounded by supportive Michener faculty, parents, first years and friends, the second years listened to several guest speakers express the value of the Respiratory Therapy profession. Members from the College of Respiratory Therapists of Ontario (CRTO), Respiratory Therapy Society of Ontario (RTSO), as well as Michener alumni, executive members and Michener RT professors shared life experiences and words of encouragement, all adding to the intimacy of the ceremony.
As the name suggests, the ceremony focused on the stethoscope. Second year students had purchased their stethoscopes earlier in the term (they're not just for physicians anymore!), but had since only been allowed to carry them in their pockets. The ceremony culminates with a Registered Respiratory Therapist (usually a faculty member, but also included any RRT in the room) draping a second year with the stethoscope around their necks. If you see a second year RT in the halls wearing their stethoscope proudly you now know why!
After donning their stethoscopes, led by RT professors Martha Williams and Felita Kwan, the second years read the Respiratory Therapy oath.
The Respiratory Therapy Student Oath – October 30, 2014
I solemnly pledge to dedicate my life to the care of the sick, the promotion of health and the service of humanity.
I will practice respiratory therapy with conscience and in truth. The health and dignity of my patients will be my first concern. I will hold in confidence any patient relation information. I will not permit considerations of gender, race, religion, sexual orientation, ethnicity, or social standing to influence my duty to care for those in need of my service.
I will respect the moral rights of my patients to fully participate in the medical decisions that affect them. I will assist my patients to make choices that coincide with their own values and beliefs.
I will strive to improve my competency constantly. I will recognize my limitations and work within my scope of practice and competency level at all times. I will work within appropriate guidelines and legal framework governing the practice of respiratory therapy.
I will promote health as well as treat disease.
I will hold in regard my colleagues in other professions, those who teach and those who broaden our knowledge through research. I will encourage good team dynamics and encourage mutual critical evaluation of our work.
I will seek constantly to grow in knowledge, understanding and skill and will work with my colleagues to promote and advance all that is worthy in the profession.
I make this pledge freely and upon my honour.
RT Oath based on "The CSRT Code of Ethics" and "A Yale Physician's Oath"