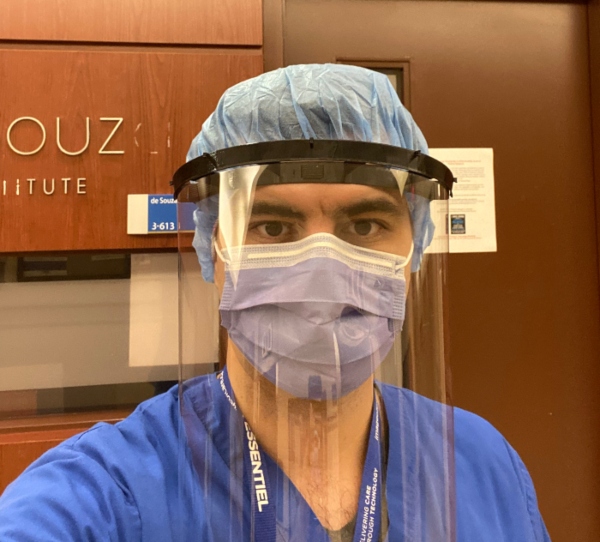 This past March, as Canada began preparing for the peak of the COVID-19 pandemic, heath care workers searched for ways that they could quickly make a difference.
Vahid Anwari, Radiological Technologist at Toronto General Hospital and Michener alumnus, realized that his background in 3D printing research could help with PPE production during this critical time.
"I saw there were people online using printers to make face shields, and one of my colleagues told me that I should use my experience and start doing this," says Vahid. "That's when the light bulb turned on for me."
Vahid approached Dr. Azad Mashari, an Anesthesiologist at Toronto General Hospital and Director of UHN's Lynn & Arnold Irwin Advanced Perioperative Imaging Lab (APIL), about the idea of collaborating to make PPE with 3D printers. Within days, they were up and running.
As the Director of APIL, Dr. Mashari had a long-time partnership with Glia, an organization based in London, Ontario that creates open-source medical hardware that can be easily shared. With Vahid's help managing the 3D printers, Dr. Mashari and his team used Glia's open-source designs to build and supply high-quality, safe and reusable face shields to medical facilities, including UHN's Joint Department of Medical Imaging and the Emergency Departments at Toronto Western and Toronto General hospitals. The distribution and selection of PPE for specific UHN units is determined by the UHN PPE committee, which will use APIL's face shields for other units if they're needed.
"It was a match made in heaven," says Dr. Mashari. "We needed more staffing and we knew about Vahid's background with 3D printing. He's the site production manager for the face shields, and he's our main contact point for quality control, which is an essential part of the process."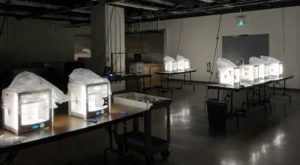 The team had to source a minimum of 10 printers to meet their goal of producing 100 face shields a day. Fortunately, the community stepped up right away to offer support. From the Toronto Public Library to art studios across the city, a range of industries reached out and lent 3D printers to Dr. Mashari's team. They now have 15 printers that are operating at full capacity.
APIL is also currently printing a stockpile of face shields to prepare for a second COVID-19 surge. One of the main objectives of the team's work is to put a process in place for rapid on-site manufacturing of PPE – a crucial practice for UHN.
For Vahid, there was a steep learning curve in his new role, but he was prepared for the challenge: "As an X-ray Technologist, I was used to adapting to different patient solutions – that was already there – but I had to continue to be adaptable, and this kicked in quickly."
While the pandemic has been the greatest challenge facing health care in generations, it has also led to new and innovative opportunities. As health care workers, Vahid and Dr. Mashari agree that what stands out for them during this extraordinary time is collaboration unlike anything they've seen before.
"The power of collaboration is really significant right now," says Dr. Mashari. "The pandemic has taught us that we can bring some of this energy and collaboration to address other health care needs that are urgent all the time."
The other team members that have been crucial to the COVID-19 3D printing team at APIL are Samareh Ajami, Nour Ayach, Saba Ansari, Jo Carroll and Joshua Qua Hiansen.