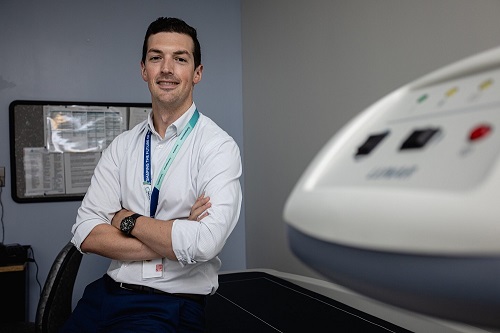 David Singleton's career journey has come a long way since graduating from Michener's Magnetic Resonance Imaging program in 2014. David got his start in health care as a Medical Radiation Technologist at Medical Imaging Centres in Kingston.
He eventually found his way to Mount Sinai Hospital in Toronto working in X-ray and CT. "In X-ray and CT, I was performing all types of exams, from OR cases to CT guided procedures, portable imaging and emergency patients," he explains.
He started in the MRI program at Michener in 2012, and completed his placement at UHN. "This gave me tons of experience in a hospital setting," he says. "At UHN in my MRI placement, and later working experience, I was seeing a variety of patients from routine imaging to complex cancer studies, cardiac imaging and more. Training at UHN allowed me better access to future employment there."
Currently, David works as the Diagnostic Imaging Manager at Scarborough Health Network. As the manager of the General site, he is responsible for day-to-day operations, human resource management, and new program processes. His newest project involves planning for the construction and launch of a new department.
"SHN is building a new Diagnostic Imaging Department in the lower level of an unfinished wing at the Scarborough General Hospital. This new DI department will bring all modalities together, as well as expand services such as MRI, Interventional Radiology, and Mammography," he explains.
The department will include all new imaging equipment and contain a 10-bed patient care and recovery area. It is estimated the new department will be completed by August 2024.
While his current position is more administrative, David finds his job is more about fostering the success of others and helping to make the lives of frontline staff easier.