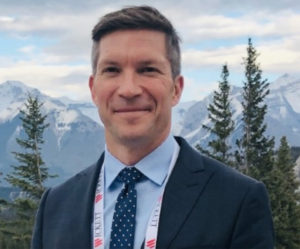 Working with students was one thing that Kevin Taylor loved the most in his accomplished health care career. As a respiratory therapist for 25 years, and eventually the President and CEO of the College of Respiratory Therapists of Ontario, Kevin knew how important it was to help students grow as professionals.
Kevin passed away in August 2021 from glioblastoma, an aggressive brain cancer. He was a cherished colleague and leader across Canada's respiratory therapy community, and his passing was an immense loss to the profession. As a way to honour Kevin and his passion for health care education, his family set up The Kevin Taylor Memorial Award for Leadership in Respiratory Therapy. This award was presented for the first time at Michener's virtual Student Awards Ceremony in April.
"Kevin had many interactions with Michener students," says Jackie Houston, Kevin's wife. "He worked as a clinical preceptor for a few years, and he knew the Michener Respiratory Therapy program leads. This bursary felt like the right fit."
In his time working for the College of Respiratory Therapists of Ontario, Kevin played a vital role in shaping the current National Competency Framework, which is the foundation of the educational curriculum for all RT programs in Canada. Earlier in his career, Kevin taught in the clinical setting and was the preceptor lead at St. Michael's Hospital. "Kevin thought a lot about education and ways to train new professionals so they can meet the demands in health care," says Jackie.
When it came to financial support, Kevin understood that many students enter their education under difficult circumstances and that student life can be expensive – especially living in the GTA. Kevin put himself through his own post-secondary education; he knew what it was like having student debt and this meant that he could relate to students who struggled with school expenses.
"For someone to choose a health care career in a pandemic is so admirable," says Jackie. "We want students to enter their new profession in the right way and have the resources to stick with it."
Ryan Floro, who is graduating from Michener's Respiratory Therapy program in June, received The Kevin Taylor award this year. When asked what receiving this award means to him, Ryan's answer is simple: "It's an honour to be the first recipient. For me, it marks the beginning of my respiratory therapy career. Kevin Taylor's dedication to the profession inspires and motivates me."
Ryan plans to use the award to pay for his respiratory therapy board exam and his member fee for the College of Respiratory Therapists of Ontario, which is exactly in line with Jackie's vision for the award. "It's a good feeling," says Jackie. "It's important to us that this award gives students concrete help."