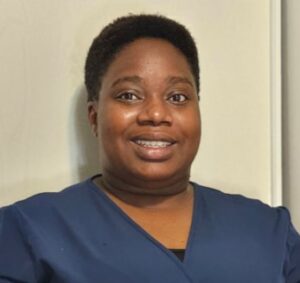 Ornella Akeza's path to becoming a registered Medical Radiation Technologist is marked by her determination and dedication.
Originally from Burundi, Ornella spent 17 years in South Africa before graduating from Durban University of Technology in 2018. She always had a passion for healthcare, exploring studies in medicine and ultrasound, but her focus eventually shifted to medical radiological technology. After a one-year internship in South Africa, she realized the need for additional clinical training. However, by March 2020, Ornella and her family made the decision to relocate to Ottawa, Ontario.
The transition to Canada posed challenges for Ornella, as she struggled to find employment in her field. She even attempted to take the CAMRT certification exam for licensure, without success. "I found it very challenging to do the exam without the up-to-date knowledge and having the Canadian exposure to standardized education," she recalls. She then connected with a settlement agency called Ottawa Community Immigrant Services Organization, which introduced her to a mentor working as a Medical Radiation Technologist in Canada.
Encouraged by her mentor, Ornella applied to Michener's Bridging Program in Radiological Technology and was accepted into the 2023 cohort. The program played a vital role in reintroducing Ornella to the complexities of her field and bridging knowledge gaps acquired during her time away from practice. It also introduced her to new concepts such as patient positioning, anatomy, pathologies and advanced X-ray instruments.
Ornella praises the program's lecturers and the curriculum, saying it contributed to her confidence and knowledge to be able to work in Canada. However, balancing full-time work as a food packer in Ottawa and weekend classes in Toronto was no small feat. "Sometimes I would get down and wonder if this stress, commuting back and forth, was worth it. But looking back now, I'm so glad I made the choice to take the program."
Today, Ornella works as a registered Medical Radiation Technologist at an Ottawa clinic, and credits the Michener program for instilling precision and accuracy in her work. She stresses the value of the program for any internationally educated healthcare professionals looking to bridge knowledge gaps and build their confidence in order to thrive within the Canadian healthcare environment
Ornella's advice to newcomers is to take it one step at a time. "Make a plan, organize your goals and work towards where you want to be – in the next three, five and even ten years."
In her words, "The journey has been long, but I'm very proud of what I've accomplished. I'm happy that I am able to wake up every day and go to a job that I love, and where I can help others."