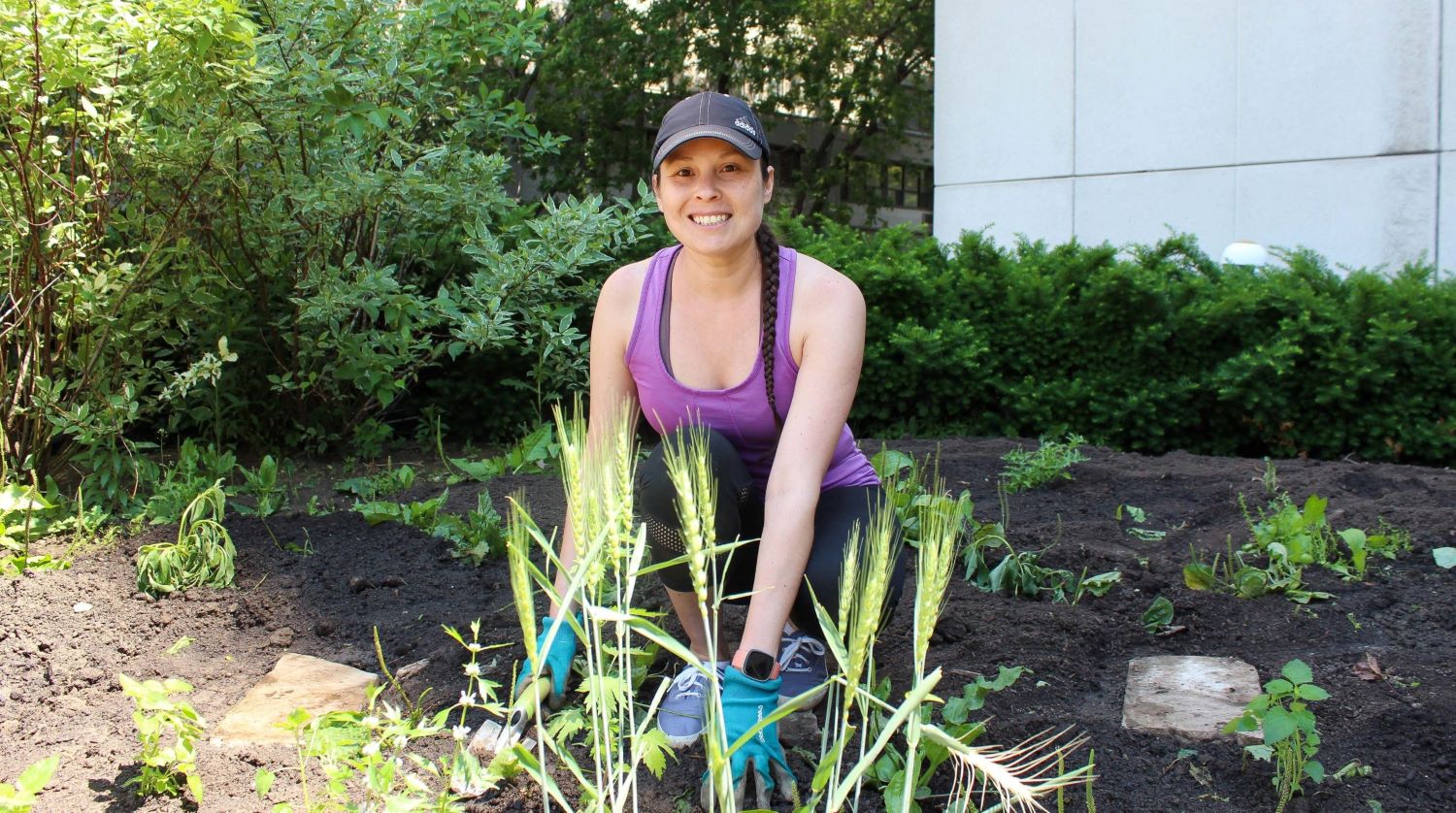 Ashley Migwans, Program Coordinator, Indigenous Health & Population Health and Social Medicine, UHN, joined a group of volunteers to plant the Indigenous healing garden at the Michener Institute of Education.
UHN's first Indigenous healing garden is taking root at The Michener Institute of Education at UHN.
From design to implementation, the garden – located at the corner of Elm and McCaul Streets in downtown Toronto – is Indigenous-led, following the practices and protocols for planting a Gitigan (the Anishinaabemowin word for garden) that have been passed down through generations. The Gitigan is a place to grow plants native to the area, traditional medicines and many plants used by Indigenous nations for their healing properties to help improve physical, mental, emotional and spiritual health.
"This project has me so excited," says Ashley Migwans, Program Coordinator, Indigenous Health & Population Health and Social Medicine, UHN. "The garden is a place to reflect and honour our Indigenous culture, our history, our stories, our language, our traditional medicines and how all of that is interconnected within the healthcare and education system, the teachings and values."
In the past, the location of the healing garden has been used as a flower garden, overseen by Michener's Director of Facilities Paul Martin, who said each year annuals were planted.
Paul said he connected with the Indigenous Health Program after a student alerted him to a dogwood plant in the garden and its uses in Indigenous culture and medicine – from pipe ceremonies to relief from poison ivy.
"That discovery got the ball rolling," says Paul. "So I told them, 'I have a garden, I have a budget – there's no barrier.'"
From there, a group was formed to design and plant UHN's first Indigenous healing garden. The group includes Ashley, experienced Indigenous Earth Worker Kateri Gauthier – who was recruited to design the layout – as well as the Energy and Environment team and Paul's team at Michener, who are part of the Facilities Management-Planning, Redevelopment & Operations Department (FM-PRO) at UHN.
The process began with Kateri visiting the site to ask Shkagamik-Kwe (Mother Earth) for permission to move forward with the project.
"One of the first things I did was hold tobacco in my hand and ask for permission to be here in this space. I told her what our intentions were and asked for guidance to begin our work in a good way," says Kateri.
Once she received that permission – which can come internally from a place of stillness – she knew the planning process could begin.
While the working group wanted to incorporate the four sacred medicines: tobacco, sage, sweetgrass and cedar, Kateri prayed again for guidance on the rest of the plants to include.
"The process that I followed, it was really in connection with spirit," says Kateri.
Building an Indigenous healing garden is much different than planting a flower garden, adds Ashley.
"We don't just plop on any piece of land and do what we want with it," she says. "We did it from a place of respect for the land, the spirit and the life that the land itself has there."
"We're relational people and the land is really important to who we are as a people."
Kateri started by making a list of 100 plants intending to prioritize endangered plants due to overharvesting, narrowed it down to 40, then 25.
She incorporated plants that would not only thrive in the space, but also benefit Michener programming. For example, the garden is home to dandelion, which can benefit the Diabetes Educator Certificate Program, as it's traditionally used to help steady blood sugar levels for someone with diabetes. It's also home to plantain, which can be used by the Chiropody Program (healthcare for the foot and foot-related conditions), as it's traditionally used in compresses for foot sores.
Kateri also worked with Miinikaan, a Toronto based landscape, design and garden company that specializes in Indigenous Healing and Teaching Gardens.
"There's a really big need for this," Miinikaan co-founder Lara Mrosovsky says, adding that she's seen an increase in demand for these gardens across the city. "For some of the non-Indigenous groups, there's a newfound awareness – maybe through the Truth and Reconciliation Commission – that they have an opportunity to be inclusive and look at not just doing what they always did."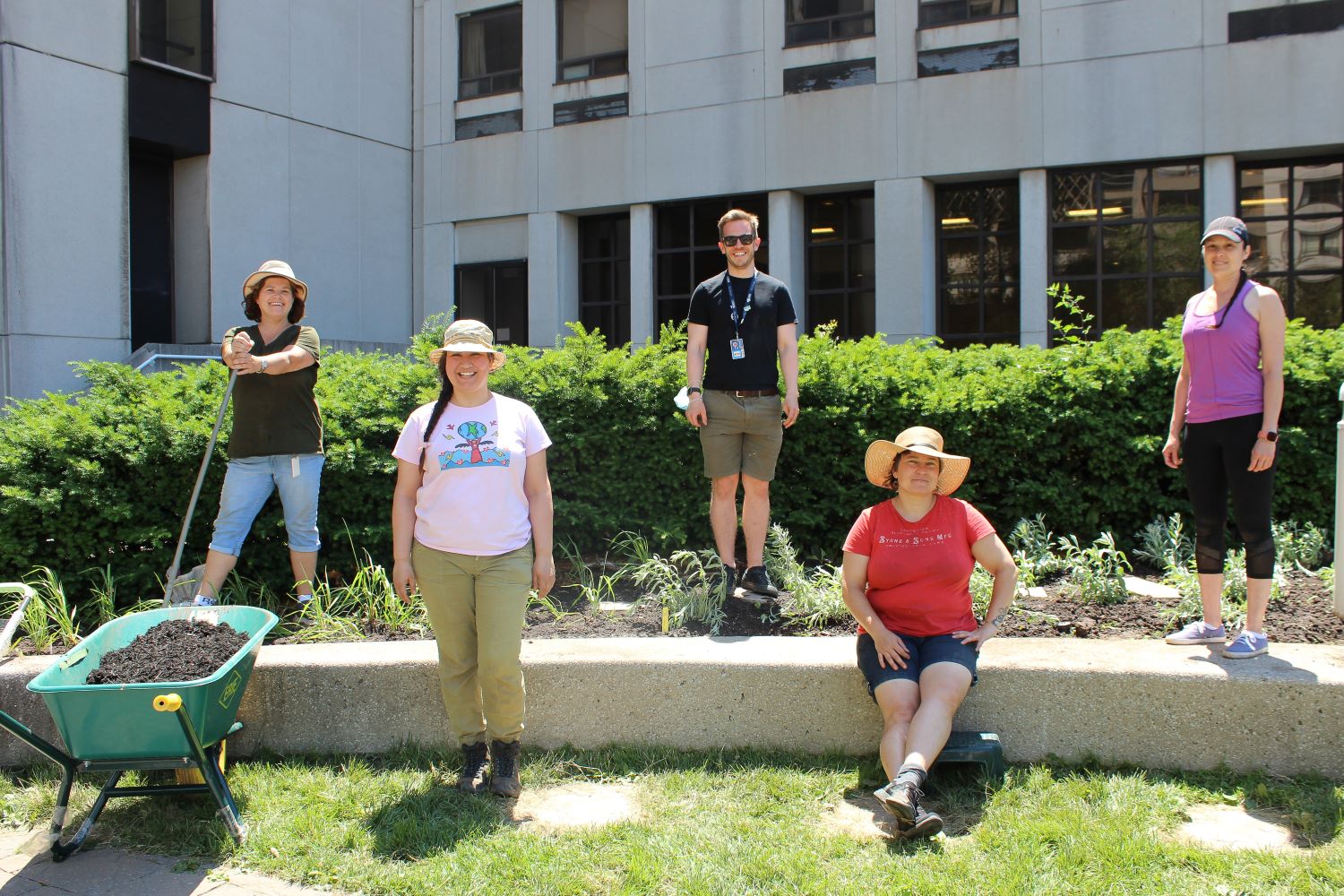 (L to R) Lisa Vanlint, Energy Steward at UHN, Indigenous Earth Worker Kateri Gauthier, Paul Martin, Director of Facilities at Michener, Miinikaan co-founder Lara Mrosovsky, and Ashley Migwans, Indigenous Health & Population Health and Social Medicine, UHN. The group got together to plant the Indigenous Healing Garden earlier this month.
Ashley, Kateri, Lara and a team of volunteers worked together to build the garden earlier this month, following traditional Indigenous practices, like planting with pieces of tobacco to welcome the plants to their new home and to give thanks for being part of the new space.
Now that the healing garden is planted, the team is working with FM-PRO to install educational plaques throughout the site. The plaques will hold a land acknowledgement of the Indigenous nations across Turtle Island as well as a message welcoming visitors to the space. There will also be QR codes dispersed throughout the garden, so visitors can learn more about each plant, its Indigenous names, uses and healing properties.
"It's meant to be a learning opportunity," says Ashley. "There's all different kinds of uses for all of these plants and this will provide an opportunity to have people understand why they're so important."
Ashley also sees the garden as an opportunity to include Indigenous health and wellbeing practices into Michener programming, so that students – and UHN staff – have awareness and understanding when working with Indigenous patients.
"It can serve as a way to build bridges between institutions and Indigenous ways of knowing, health and wellbeing," she says. "The garden just really aligns with everything that the Indigenous Health Program is striving for."
"I hope that this is a starting point: the first Indigenous garden at UHN that will hopefully inspire other locations to do something similar."
Tips on visiting UHN's new Indigenous healing garden
The garden is open for anyone to enjoy – all are welcome.
Do not pick the plants, medicines or flowers.
Learn about the plants and their medicinal purposes: "Have reverence for the plants, for all that they bring and see them as having a spirit, as being alive and not just inanimate objects. They're sentient beings, talk to them," suggests Kateri. You may be surprised when they talk to you!
Educate yourself on the Gitigan by using the educational plaques and QR codes.
Make sure you're "in the right frame of mind," says Kateri. Be aware of the energy you're bringing into the space and what you're leaving behind.
Questions? Connect with Indigenoushealth@uhn.ca