Learn how the Aging Simulation has already influenced more than 770 current and future health care providers.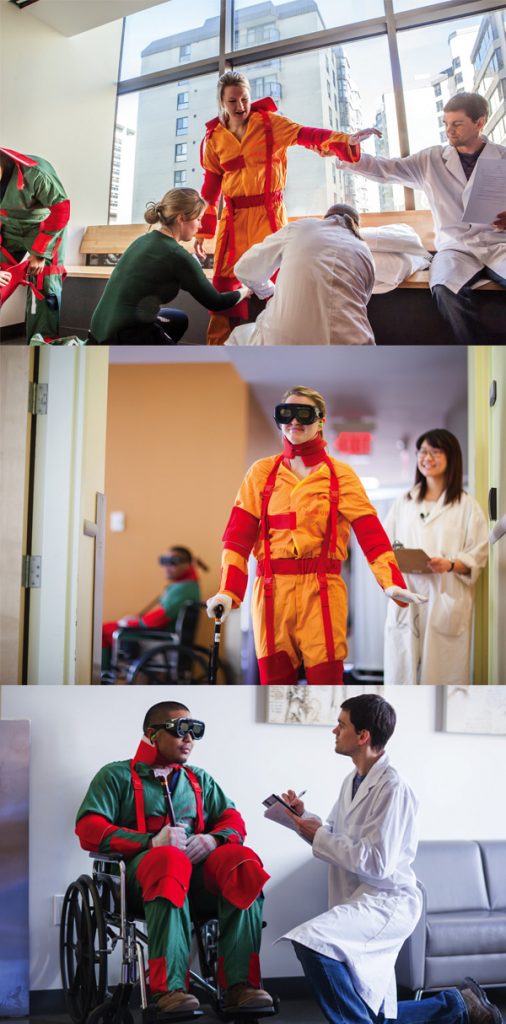 Student Experience

"I see senior care in a new light after this … I knew that the number of seniors is going to increase substantially in the coming years, but this course focused on the smaller details of senior care. I am much more aware of situations involving seniors and how to work with them." – Michener student, 2016
"I enjoyed trying the aging suit and working with patient actors was enlightening. Working through the possible scenarios as a health care provider with seniors helped me prepare for future interactions." – Michener student, 2016
Students reported increased awareness of many aspects of working with seniors, including:
Challenges that seniors may face in acute healthcare settings specifically and more broadly, and potential hazards and needs
Symptoms of dementia, delirium and depression and recognition of each
Their own disposition as health care providers when interacting with older patients to ensure that they "feel as though I am an approachable and understanding health care provider attuned to their needs."
90% of students reported an improved knowledge and understanding of older adults, including the importance and ways in which to:
Create a senior-friendly environment
Adapt to patients' abilities and impairments, including dementia, delirium and depression
Respond with and demonstrate empathy
Based on most recent delivery in 2016
92% of students reported that their attitude towards older adults was influenced in a positive way.
Based on most recent delivery in 2016
Students reported that the simulation component increased their confidence in working with seniors.
"I feel much more confident when working with geriatric patients after going through this course." – Michener student, 2016
"It definitely encouraged confidence by placing appropriate focus on more real-life situations/scenarios that are likely more relevant to clinical encounters. The current learning modules allow for students to directly adapt to, and understand the perspectives of, the elderly in terms of their fears and concerns towards receiving healthcare." – Michener student, 2014
Patient Experience
Patient experience is recognized as an organization-wide area of focus for University Health Network in 2016/17. The integration of patients' voices and their engagement in activities – large and small, and at all levels and throughout all areas of our organization – is critical to this priority. For that reason, patients are engaged at all steps of the simulation, from design to delivery.
Meaningful Patient Engagement
Patient engagement is gaining momentum in the planning, governance and delivery of health care. We are pleased to contribute to this by ensuring meaningful patient engagement in the continuing education of current and future health care providers.
Patient Involvement in Numbers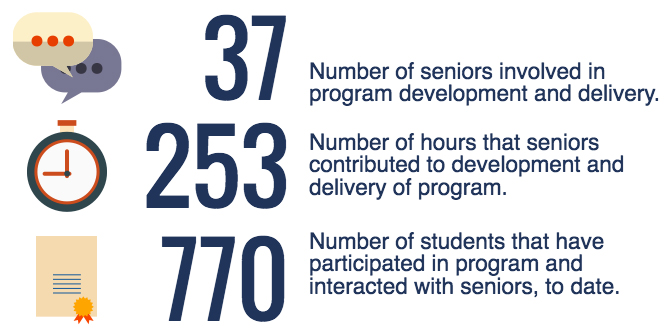 However, patient involvement is more than numbers. We ensured that patients were
engaged in a meaningful way
– and that patients involved were supported to truly engage and collaborate as equal partners. Patients were involved across different levels and scopes of engagement.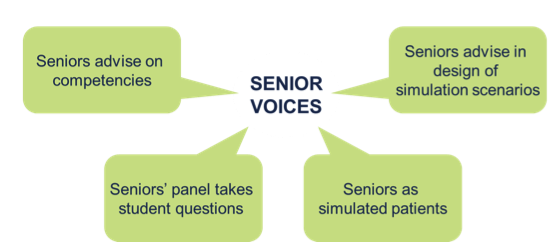 "There has been a constant atmosphere of being interested and committed to enhancing the treatment of seniors in all phases of health care. Over the long haul … The Michener Institute has continued to practice what it initially indicated it was committed to. The follow-up has never faltered and has been continually ongoing." – Patient, involved in design of competencies
"It would be like a mechanic learning how to fix cars without ever having to deal with a car" – Patient, involved in Aging Simulation since 2014
"You have to give them exposure to people who are going to be the focus of their entire careers…as quickly as possible. We're maybe the first step, but a very important step."  Patient, involved in Aging Simulation since 2014
"It's nice to know that maybe one day these people will be coming to me and providing me with what I need because of the way I was involved." – Patient, involved in Aging Simulation since 2014