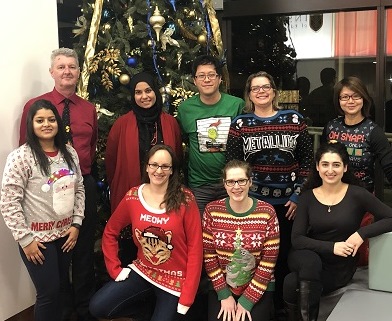 A Look Back on the 2017/2018 Academic Year
The Alumni Association Board of Directors helped kicked off the 2017/2018 fall semester alongside incoming students at Michener's Orientation. The Association sponsored a photo booth on the first day of the event and Board members had the chance to mingle with the new cohort at the Orientation BBQ.
2017 marked the 20th anniversary of Michener's Alumni Association. Board members, alumni of distinction, award winners and Michener leadership gathered at Midi Bistro on McCaul Street to celebrate the Association's first twenty years. The successful event was made possible through the hard work of our Celebration Event subcommittee, led by Nicole Coutu (Resp '13), Michelle Lau (Rad. Therapy '02), Christine Nielsen (Med. Lab '97) and Laura Smy (Med.Lab '97).
The Alumni Association was invited to take part in Michener's Open House Lobby Chat, an opportunity for prospective students to talk with Michener alumni about different health care professions and working in the industry. It was a pleasure to chat with prospective students who are about to begin a new career path.
In March, the Association worked with a facilitator to help us refresh the Board strategic plan (which was last revised in 2014). Jennifer O'Leary, faculty member in Michener's Genetics Technology program, took on the role of facilitator and led a productive session.
Michener's 2018 Convocation took place on June 16 at Koerner Hall. The Alumni Association sponsored a reception for graduates, guests, faculty and alumni before the ceremony – a perfect opportunity for graduates to celebrate together and share memories of their time at Michener. Koerner Hall was a beautiful venue for Convocation and we look forward to returning there next year.
Board membership changes
Ruvette Coelho (Radiation Therapy '11) is this year's new Vice Chair of the Board. In September, we welcomed Judy Tran (Med Lab '17) to the Board. Judy was Michener's 2017 valedictorian and will be a valuable addition to the team.
Hollin Ng
Chair, Michener Alumni Association Board of Directors