X-Rays uncover paintings depicting a passionate affair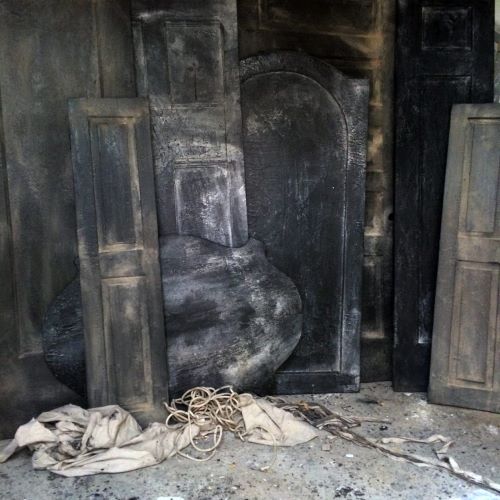 Picture a small town east of Paris in the early 1900s, just before the First World War. A young painter named Sophie la Rosière becomes completely absorbed in a passionate affair with another young woman, a nurse. But given the morals of the time, their relationship must remain a secret.
In the safety of the home she inherited from her parents, Sophie paints her fantasy and passion onto elements of the house…on wall panels, on the back of the piano, on table tops…any surface she can cover or hide when needed.
But by 1917, Sophie's lover decides she cannot continue in the relationship. Sophie realizes her own reputation is at risk if her paintings are discovered, so she covers them with beeswax and ash so the images are obscured. Years later, she takes some of the pieces with her when she enters a retirement home. But the paint on the ones left behind begins to flake, and Sophie's secret works are discovered and taken to the C2RMF – an art research and restoration centre in Paris – for X-rays, which reveals Sophie's secret love affair.
Toronto sculptor and conceptual artist Iris Haussler pictured this story. In fact, she has been creating this fiction over the past five years, and in collaboration with Elegoa Cultural Productions, The Art Gallery of York University and the Scrap Metal Gallery Toronto – and now with the help of a Michener professor and two radiological technology students – is bringing it to life in series of exhibits this fall.
"Sophie is fictitious…but she took force over my life, and I became the painter in her story," says Iris.
"She leads my hands. The paintings exist, they are real, and the story is so well researched and fits so well into the believable that I believe it. But it's a fiction."

Michener's part in the choreography of this fiction – the role of the research and restoration centre supplying the X-ray images – came about via the Art Gallery of Ontario (AGO). Iris worked with the AGO on a previous project that involved 'hidden' artifacts revealed through the use of X-rays (He Named Her Amber). She connected with Sherry Phillips, Conservator of Contemporary Art at the AGO, to ask whether she had any contacts in imaging who could help with the project. Sherry contacted Michener Radiological Technology professor Masood Hassan, who she knew from a previous collaboration with the Ontario College of Art and Design (OCAD) and knew to be interested in creative applications of X-ray technology.
"Masood generously agreed to meet with me and gave me a great tour of the Michener facilities. I was really taken with his efforts to provide his students with interesting projects and also make new connections, particularly with the arts community," says Sherry.
Sherry connected Iris with Masood, who immediately saw how the project would be both interesting and instructive for his students.
"I looked him up and found this amazing image he had of skates he had X-rayed with students. That confirmed to me that this is a person who goes beyond his professional realm in being interested in this technique, so I contacted him," says Iris.
Masood says he was immediately intrigued by the project, given that he regularly provides his first-year students with the opportunity to scan unusual objects as part of his teaching. He also says he's fascinated by the many applications for radiological technology beyond health care. He put out the call for volunteers among his students, and then worked with students Emelie Regimbal and Sumon Mazeed to carefully unwrap and scan the panels Iris had painted (and then obscured) in her studio. Iris painted the original panels with material that was both historically accurate and that would show up in an X-ray 100 years later, and the scans did indeed reveal the outlines of 'Sophie's' paintings.
The scans will be displayed in one of three upcoming shows for the Sophie la Rosière project.  The first show, opening September 14 at the Art Gallery of York University, reconstructs Sophie's fictitious studio in its 1918 state, when Sophie staged what Iris calls her 'emotional apocalypse,' covering everything in black.
The second show at Scrap Metal Gallery, which opens September 21, will include the scans Masood and his students took, showing the analysis of the paintings as well as the paintings themselves. Both shows will run till December 11, 2016. Daniel Faria Gallery will also feature the Sophie La Rosière Project during the Art Toronto international art fair from October 28 to 31, and will present the restored paintings in a solo show in spring 2017.
Iris is grateful for Michener's contribution to her project, and overall, for what science brings to the art world.
"Science often helps art with a major ethical concern. If you have an artifact and you want to know what's hidden in the layers, taking it apart will destroy it. But how can you know whether the artifact is the covering, or the artifact is what is hidden? You would destroy something to get to its truth, so X-rays and infrared technology help museums narrow this down before they make decisions about restoring art."