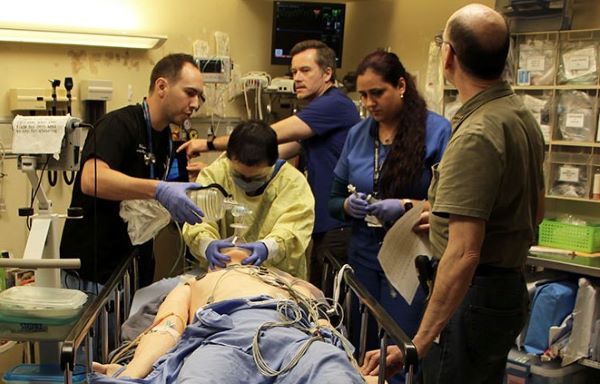 In the high-stress environment of an Emergency Department (ED) where decisions need to be made quickly, errors can occur when a health care team doesn't know how to effectively communicate with one another.
To address this problem, the ED Simulation Committee at UHN is aiming to improve interprofessional communication and patient safety by organizing simulation exercises in the Resuscitation Bay.
During the exercises, ED staff interact with a high-fidelity manikin as if it is a real patient. The manikin breathes, has palpable pulses and audible breath, and can even be programmed to cough, groan and speak.
"Anyone who takes a close look at the manikin can tell it isn't a real person, but we try to make the storyline as accurate as possible so it feels like a real-life scenario for those involved," says Roger Chow, Simulation Education Specialist.
In 1981, researchers evaluated 28,000 incident reports submitted by pilots and air traffic controllers. They found that more than 70 per cent involved errors that stemmed from issues with verbal communication, such as incomplete and inaccurate content, vague phrasing, absent communication and misperceived messages.
This study demonstrated the need for training on effective communication between interprofessional team members, particularly in high stakes environments like the airline industry and health care.
While the Committee has been running mock code simulations over the past few years, they've found that many staff don't have the time to leave their clinical area to attend. The recent change to 20-minute cases integrated within the clinical environment (in situ) every couple of weeks has proven to be more realistic and much easier to coordinate.
Physicians typically have some experience with simulation training but other professions don't often have the chance to participate. Opening these opportunities to anyone means that residents, nurses, physician's assistants, respiratory therapists and more can practice together in a real-life setting.
"It's a better learning experience for everyone as it's less of a teaching session to see how you're doing and more of a team building session," says Soojin Yi, In Situ Simulation Coordinator.
These sessions also allow staff and Simulation Coordinators to identify latent safety threats (LSTs) before they can cause harm to real patients. LSTs are problems that arise when running a mock scenario, such as missing equipment, educational gaps or misunderstandings – anything that could potentially affect patient care.
"For physicians, I think knowing that we're working to improve the quality of patient care is a good motivating tool for them to find time to participate," says Nadia Farooki, Director of the UHN Simulation Committee.
Recently, the Simulation Committee ran a case involving a chest tube insertion. During the simulation, they saw that some junior nurses had not been exposed to the infrequent task of attaching the chest tube to the suction. Fortunately, a senior nurse was present and took time to show them how to do it.
A few days later, the same team was on the job when a patient needed a chest tube inserted, and the procedure went seamlessly.
"It feels very valuable and worthwhile when we're able to identify these kinds of issues before they arise," says Nadia.
In addition to organizing training exercises, the Simulation Committee conducts research on how UHN can minimize LSTs from a systemic level.