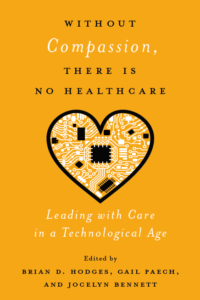 With many concerned that an increase in technology could mean the disintegration of compassionate care, a team from Associated Medical Services (AMS) that includes UHN VP of Education Dr. Brian Hodges has written a book called Without Compassion, There Is No Healthcare that will be published this November.
The topic was born out of the AMS Phoenix Project, which is focused on making a positive and lasting difference in how health professionals develop and sustain their abilities to provide humane, compassionate, person-centred care. The project aims to instill and sustain compassion, empathy and professional values in the environments in which health professionals learn and work.
The book is written by three AMS leaders: Dr. Brian Hodges, Founder of the AMS Phoenix Project and Chief Medical Officer at University Health Network (UHN), Gail Paech, CEO of AMS, and Jocelyn Bennett who leads the Phoenix Program.
"AMS made a huge investment in fellowships, research and conferences, and that work has built up over nearly a decade and made Ontario one of the world's leading centers in this type of work," says Brian. "We made the decision to gather this work for a book about three years ago."
Prior to Covid-19, the rapid rise of technologies such as artificial intelligence and robotics was already transforming healthcare and raising questions about how to optimally balance technology and compassionate care. Covid-19 has since set off a rapid and massive shift to virtual care, with many benefits but also many concerns.
The authors draw on work by a number of physicians, nurses, health professionals, administrative leaders and researchers – many of whom are at UHN. There is also an important chapter on the relationship of compassion to equity, particularly within care for marginalized groups.
"It comes at a critical time to help health professionals, educators, researchers and administrators grapple with this new world," says Brian.
Since finishing the book, Brian says his opinions have been impacted by his experiences during the Covid-19 pandemic.
"I have learned to avoid the false dichotomy that all things human are good and all things technology are cold and not compassionate. Humans can be very compassionate but are not always, and some technologies can greatly enhance our compassionate purpose."
The key challenge for health institutions is to find the optimal balance between human presence and technology that maximizes healthcare's compassionate purpose.
In 2016, Dr. Hodges was awarded the Karolinska Institutet Prize for Research in Medical Education for his work on assessment, competence, compassion and the future of the health care profession. He was recently featured in a KIPRIME podcast where he discusses this new book. Listen here.