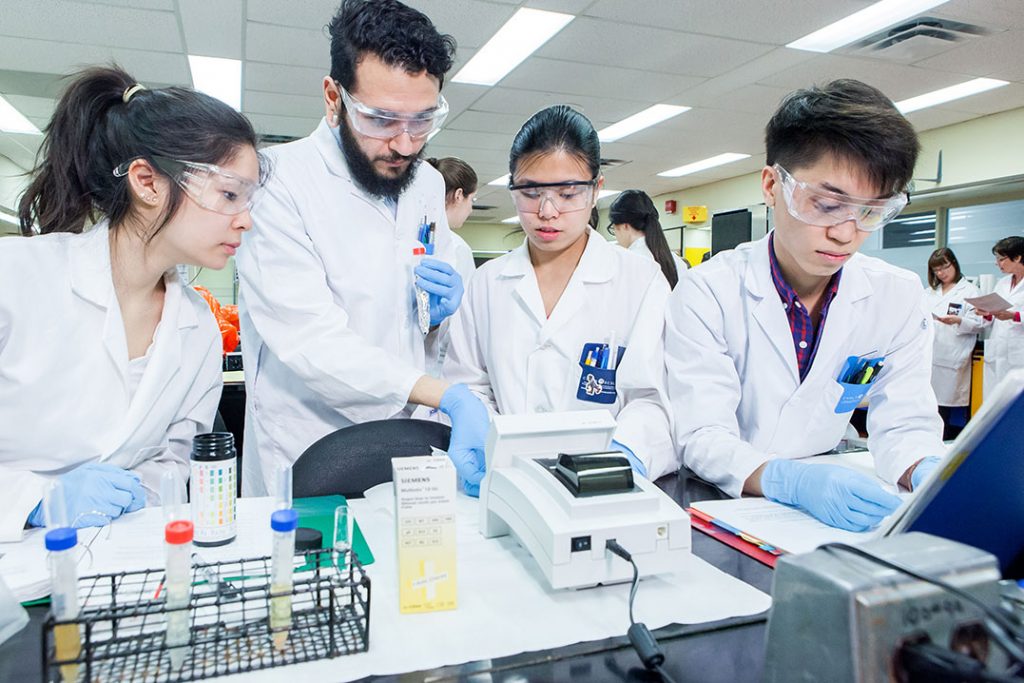 Judy Tran might not interact with patients every day, but she knows her impact on them is critical.
As a medical laboratory technologist, she works behind the scenes to help determine the diagnosis, treatment and care that a patient might receive in the face of illness or injury. For Judy, working in the lab is a unique opportunity to impact patient care.
"Medical laboratory science is one of the few careers where you can contribute to someone's care from the beginning to the end of life," she says.
Judy, a Medical Laboratory Science student and Valedictorian for the Class of 2017, is one of 236 students from The Michener Institute of Education at UHN who graduated on June 24 to enter careers where they will directly contribute to the care that countless patients will receive over their lifetime.
Judy and her peers are graduating into fields where medical breakthroughs and disruptive technologies like artificial intelligence, automation and robotics are transforming their careers. They're entering a world where the technologies that will one day augment, and in some cases displace, specific roles in health care are right around the corner.
However it is also a world where patient-centred, compassionate care will only become more critical.
"Artificial intelligence is a hot topic, and some are projecting massive job loss as a result," says Dr. Brian Hodges, EVP Education at University Health Network (UHN).
"A more accurate conclusion would be that people will be doing different things in the future. The paradigm shift here is that as automation helps us with calculations and with treatment planning, there is more time to invest in safety and patient relations."
As emerging technologies shape the future of health care delivery, Dr. Hodges says that the one thing these technologies cannot replace is compassion.
"As educators at UHN, it is our job to provide students with an education that will prepare them to provide the safest and best patient care in this fast-approaching context, while never losing sight of the human aspect of health care delivery…a hand on the shoulder, a reassuring word and a non-judging ear."
'Health care is about more than technology'
In the face of change, Dr. Winston Isaac – a veteran in health human resources planning and recipient of Michener's 2017 Honorary Diploma in Health Sciences – reminds graduates that an ability to be agile and maintain critical, collaborative and adaptive thinking throughout their careers will be one of the biggest assets during technological transformation.
"Health care is ever-changing," says Dr. Isaac.
"This is due in no small part to all of the new technologies that enhance planning and program delivery. These technologies come into play at all stages of the patient journey, from speeding up diagnosis to improving in-hospital care, and from simplifying patient records, to ultimately improving patient outcomes."
According to Dr. Hodges, these disruptive technologies are challenging the notion that some professions – and therefore humans – perform functions that technology cannot. Already, artificial intelligence, automation and robotics are helping in operating rooms and clinics. Deep learning algorithms can mimic human judgement to improve diagnosis and accelerate treatment planning.
"At Michener we know that health care is about more than technology," says Dr. Hodges.
"It's about knowing how to use that technology to improve people's lives. It's about understanding that human connection is equally important as the most advanced tools."
After convocation, many of Michener's graduates will go on to become part of interdisciplinary teams that help diagnose and treat patients across the healthcare spectrum. Their work will be transformed by emerging technologies, and they will rely on their ability to adapt in order to stay ahead of the curve.
Many of those graduates will work in specialties like cytotechnology, respiratory therapy or nuclear medicine and molecular imaging that tend to fall under the radar of health care careers.
"We're graduating into professions that often go unnoticed," Judy says.
"Yet, the health care system would be incomplete without our contributions to it."
"We're graduating at an exciting time," she adds.
"Technology is moving faster than ever. The ability to recognize opportunities, be adaptable and move in new or unexpected directions is a great skill that will serve us well, no matter what our interests or aspirations may be."
The Michener Institute of Education at UHN will be celebrating the Class of 2017 at Convocation on Saturday, June 24.