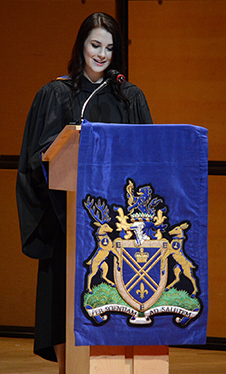 When 2014 Valedictorian Krista Urchenko was just seven years old, she knew she wanted to be a disease researcher in a laboratory. From completing her Bachelor of Science in Microbiology to entering the Medical Laboratory Science program at Michener, where she founded a Med Lab Student Society to help generate awareness for her field, Krista's story is one of passion and dedication.
It's a story that is probably not uncommon among this year's 540 graduates. Michener is full of students passionate about what they do, who are now poised to take on the challenge of contributing to Canada's healthcare system.
As Krista noted in her valedictory address, "The late night study sessions, group projects and interprofessional courses were all things we needed to accomplish to be here, but our drive, passion and determination are what truly got us here."
Having celebrated the Class of 2014 with graduates' family and friends at the Toronto Centre for the Arts on June 21, we not only recognize the hard work of students, but also the support they received from their parents, partners, friends and family.
Congratulations to the Class of 2014 – Michener is so proud to be part of your journey. Now it's your moment!
In case you missed it, here are some of the highlights from Convocation 2014:
Convocation in two minutes. Graduating students share their excitement on the big day.
"The years that you spent at Michener are not easily forgotten." Three past valedictorians share their Michener experience and words of inspiration for the Class of 2014.
#MichenerGrad14. Convocation goes social with a roundup of tweets and pics.
Check out Michener's Facebook page for more Convocation photos.