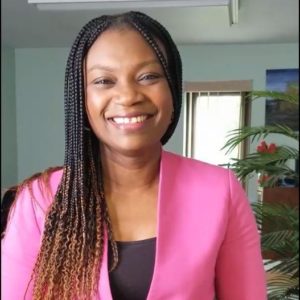 In celebration of Black History Month, we are sharing Black stories and experiences from individuals working in education, healthcare and research at The Michener Institute of Education at UHN.
Dr. Teni (Teniayo) Araba is the People and Culture Director at Michener. She is a seasoned and results-driven professional with more than 15 years of leadership experience in education, corporate and private sectors.
While completing her master's degree in Peace and Conflict Studies, she began to take more of an interest in people and their dynamics, and decided to make a career change when she was hired as a Human Resources (HR) Consultant in 2006. Prior to joining Michener, Teni was the Director of HR at Algoma University.
"Being part of Michener has given me the opportunity to work more closely with faculty and better understand the uniqueness of this school and the education sector," she says.
Teni has three big reasons for why she loves working in HR and the education sector: research, career development and leadership development.
"My goal in HR is really about taking care of people by ensuring that staff like to be at work and feel supported," she says. "It's important that everything we're doing aligns with the strategy and sustainability of our organization and clients – in Michener's case, our staff and students. I think that research is critical. It's not enough that we base our decisions strictly on our experiences – we need to be capturing data to inform and validate our decisions."
While at Algoma University, Teni was proud to hire the university's first Equity, Diversity and Inclusion Officer, following a successful application and receipt of the Canada Research Chairs EDI program grant. She is now a member of Michener's Diversity, Inclusion, Values and Equity (DIVE) Committee, which aims to support and empower people to bring their full selves to the workplace every day.
"I wanted to be part of the Committee because we're taking on a number of initiatives that I feel will help get us to where we need to be as an organization that is progressive and inclusive," she says. "This not only fulfills legislation and employment requirements, but also increases retention within our diverse staff and student body."
Originally from Nigeria, West Africa, Teni is a member of the African Caribbean Canadian Association of Northern Ontario (ACCANO) – an association that seeks to develop, promote and grow awareness of African/Black/Caribbean cultural heritage, while promoting unity and inclusion in the community.
"There are many Black students and workers from different parts of the world coming to Canada, and having gone through the immigration process myself, I understand the challenges around that," she says. "Black History Month is important because it gives us an opportunity to celebrate heroes gone and the heroes that are still with us, as well as encourage ourselves and the next generation to uphold their history and culture."