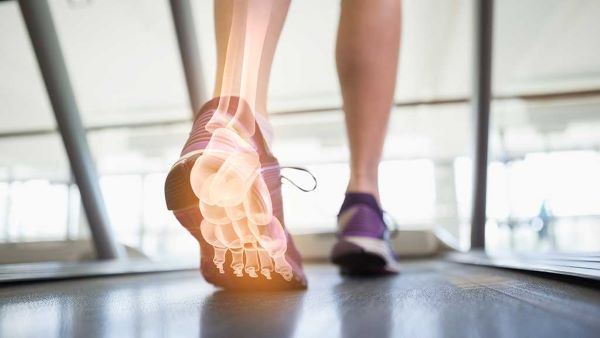 As we continue to adjust our lifestyle and socially distance during the COVD-19 pandemic, we may observe changes in our overall health. Many people have taken up outdoor running and jogging to maintain their fitness. Although it is wonderful to see so many individuals take strides to improve their health, we should be aware of the risks that come with running.
Running imparts a great impact on the body – up to 10 times that of one's own body weight. This constant shock over time can have a considerable effect on a person's feet and even translate pain upwards throughout the body. As many are taking up this pastime due to the current circumstances, they are likely beginners in the technique and mechanics of running and are more susceptible to these negative effects.
It is highly suggested that runners familiarize themselves with proper technique, gait and footwear. While footwear is often seen as a fashion statement, it is extremely important to foot health and can affect performance and recovery.
Another consideration during self-isolation is how much time we spend indoors. We may notice ourselves finding more things to do around the house and spending more time on our feet in general. Commonly, people enjoy the comfort and cleanliness of going barefoot indoors. However, if we spend too much time on our feet without support, we may experience pain and discomfort caused by an assortment of biomechanical factors. It is critical to ensure our feet are supported during extended periods of use. Sandals and slippers provide moderate support, but for lengthy use, consider running shoes exclusively for indoors.
When considering footwear, there are key features to look for in sport and indoor shoes. The heel counter is an element at the back of the shoe, wrapping around the heel. It is made of denser material and is much stiffer than the rest of the shoe, preventing the heel from rocking sideways. An easy way to assess the quality is to grasp the sides of the back of the shoe with a thumb and index finger, and bring them together. The more difficult it is, the stronger the heel counter.
Another neglected aspect of the shoe is simply its size. Once your foot is inside the shoe, there should be approximately 10 mm in adults or 14 mm in children of empty space left at the toe. A good rule of thumb is to use your thumb to estimate the distance inside your shoe. The width is often disregarded or unknown to many purchasers of shoes. The more common shoe measurement is numerical, for length, but a lettering system also identifies the width of the shoe. The sizes of D and B are most common in men and women, and also the default when not listed. However, all feet are different and do not fall into this default width. When choosing a shoe, take into consideration these factors for supportive footwear.
Hygiene is of utmost importance. Regular rotation of footwear and cleaning of the insole should be performed, preventing bacterial build up and odour. In addition to footwear hygiene, individuals should keep up with personal hygiene, even when socially distancing ourselves. One of the most forgotten tasks in a list of hygiene rituals is regular trimming of the toenails.
Toenails grow three times as slow as fingernails, which is only 1 mm per month. However, it is important to keep them short to prevent any material such as sock fluff from getting stuck. Beware of ingrown toenails which present a risk of damaging and exposing the skin to infection. Signs of infection may present with redness, swelling and pain, but beware of other symptoms too.
A novel topic to conclude is a very unique symptom of the foot associated with COVID-19 – aptly named the "COVID toe." While not yet investigated by peer-reviewed scientific articles, presentations of a red, hot and swollen toe have been reported amongst COVID-19 patients, especially in the young. This presentation can look similar to a bacterial infection caused by neglect of hygiene, and can most likely be differentiated by the cleanliness of the foot. The cause is still unknown as are many aspects of the virus.
Despite the changes incurred during this pandemic, foot health remains in a precarious state, especially for populations at risk such as diabetes patients and the homeless. Both demographics are highly susceptible to afflictions of the foot such as amputations, which still occur at an astonishing number. Additionally, due to closed services, it is becoming more difficult for them to find the help and treatment they need.
In the name of Foot Health Month and to support those who are still suffering, below are links to the Scott Mission, a Toronto-based charity dedicated to the homeless, and Diabetes Canada for donations. In lieu of holding our typical celebrations for Foot Health Month, the Chiropody program hopes to further awareness and diligence towards the community's own foot health.