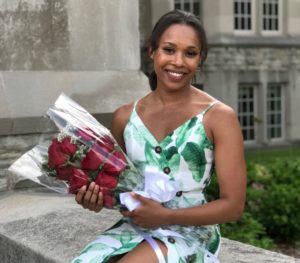 Last year, MyHealth established the Award for an Outstanding Black Student. This new award is given to a Black individual enrolled in a Michener full-time program who demonstrates a commitment to Black community involvement and a desire to enhance Black lives through their education and career choices.
The first recipient of the award in 2020 was second-year Chiropody student Tahlia Berkhof.
"I chose to attend Michener because it's the only school in Canada that offers a Chiropody program, and I love that the school allows students to get hands-on experience starting from their first year in the Chiropody Clinic," says Tahlia.
As Michener's Chiropody program requires students to complete a summer semester during their second year, Tahlia was excited by the opportunity to apply for this scholarship as the financial support would help her to manage the additional semester's tuition fees.
"As a Black woman, I have experienced discrimination from the healthcare system. I know what it feels like to be dismissed and to not have my concerns taken seriously," she says. "I've written a few scholarship essays before but I was looking forward to this one as it allowed me to reflect on my experiences, especially within the last year."
Tahlia says she is glad Michener has taken the step to offer this opportunity to its Black students, and hopes that opportunities such as this will encourage more Black individuals to attend Michener and pursue a career in healthcare.
"Receiving this scholarship has taken the pressure off of me to take on extra shifts at my part-time job, giving me more time to focus on my academics," she says. "It has also allowed me to purchase extra supplies so I can practice my skills at home, as Chiropody students haven't been able to participate in all of our regular labs on-site due to the pandemic."
After graduating next year, she plans to work in a private foot clinic and eventually open her own practice.
"I hope that by being a Black Chiropodist, other Black individuals in the community will feel more comfortable seeking foot care," says Tahlia. "I want my patients to feel confident that their concerns will be heard and that I'm committed to giving them the best care possible."