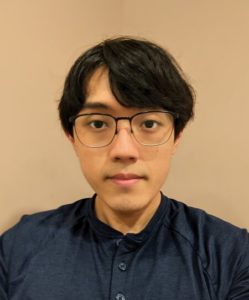 The Governor General's Academic Medals have recognized the outstanding scholastic achievements of students across Canada for more than 125 years. The Collegiate Bronze Medal was established to celebrate the exceptional achievements of students and is awarded to the Advanced Diploma program student who receives the highest overall average in their graduating year at the Michener Institute of Education at UHN.
The recipient of the 2022 medal is graduating Genetics Technology student Roland Huynh. Roland was awarded the medal during The Michener Institute of Education at UHN's first in-person Convocation ceremony since 2019 this past June.
"Receiving this medal is an extraordinary honour," he says. "It's affirmation of the amount of effort I put in during my time in the Genetics Technology program and propels me further in providing the absolute best service I could provide to my patients."
During high school, Roland set his goal to enter the health care field. Though he didn't have a clear career choice in mind, he decided to pursue a degree in life sciences at York University as a starting point.
"I had a lot of exposure to laboratory work while completing my undergraduate degree in biology and discovered that I really enjoyed exploring human genetics and the variety of different assays (investigative procedures in laboratory medicine) used in its research," says Roland. "Towards the end of my undergrad, I decided I would pursue a career in clinical genetics and looked into applying to Michener's Genetics Technology program."
During his time at Michener, Roland's favourite memories were participating in microscopy labs learning to operate brightfield and fluorescence microscopes to view and analyze chromosomes.
"I remember initially learning about karyotyping (a test to examine chromosomes in a sample of cells) and I had no clue how we could physically see chromosomes without elaborate molecular assays and expensive software. It was almost surreal for me to sit down and physically look at them," he says.
For Roland, the COVID-19 pandemic highlighted the importance of laboratory professionals. What previously was a profession that was often tucked away from public perception suddenly sprung to the forefront as the demand for testing rose.
"It was inspiring to see not only my future colleagues, but health care workers across so many professions rise to the task of supporting a health care system that was deeply strained," he says.