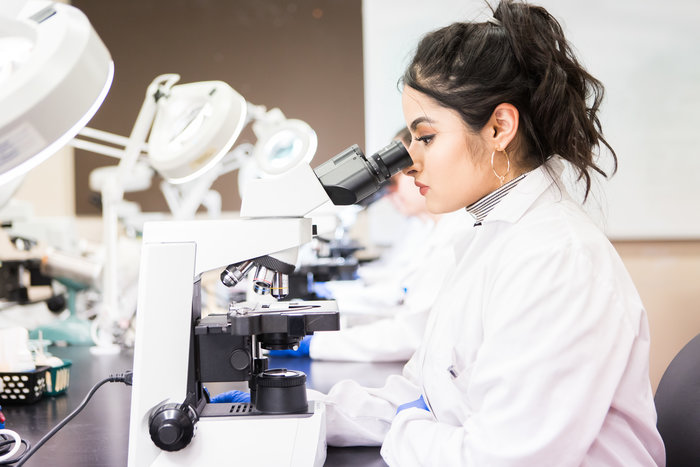 With a surge in the number of Canadians being tested for COVID-19 in recent weeks, medical labs are finding it difficult to keep up with the growing demand.
As a result of the pandemic, labs are being asked to handle more than 50,000 COVID-19 tests in a short amount of time, with numbers increasing every day. Typically, these labs handle around 440 million tests a year outside of COVID-19.
In an effort to ramp up testing capacity, the medical laboratory science community is making changes to speed up licensing for new Medical Laboratory Technologists (MLTs) and for labs to perform testing.
The Canadian Society of Medical Laboratory Science (CSMLS) is currently preparing national certification exam results and attempting to release these sooner than usual, allowing more newly certified MLTs to enter the workforce.
"Certified, licensed MLTs are the practitioners doing the presumptive and confirmatory tests at local hospitals and public health labs," says Christine Nielsen, CEO of the CSMLS.
All Medical Laboratory Science students at the Michener Institute of Education at UHN completed their program this past February and are now on the front line of the fight against COVID-19.
Testing for COVID-19 involves the fusion of two laboratory disciplines.
Obtaining and processing the physical specimens is standard microbiology, while the actual test for the virus is a molecular diagnostics process based upon quantitative polymerase chain reaction (PCR) technology (a technique that makes millions to billions of copies of a specific genetic target, allowing scientists to detect a very small amount of virus in a sample by amplifying the target DNA or RNA to detectable levels).
Most Laboratory Technologists will learn how to perform this type of testing on the job, but not graduates from Michener.
"Our Medical Lab students have taken a molecular diagnostics course since 2015, even before this was a required part of their curriculum," says Dr. Peter Bridge, Chair of Medical Laboratory Sciences at Michener.
"There is a significant section devoted to PCR, and when I taught that section a few weeks ago, I switched the examples used for the test for COVID-19."
While Medical Lab professionals are doing what they can to increase specimen turnaround times, they must also work in a manner that ensures all data released is accurate and precise.
The decision to bring in retired MLTs to assist with patient care is left up to individual workplaces. The regulating body for Ontario – the College of Medical Laboratory Technologists of Ontario – does have processes in place for emergencies, and regulators across Canada are looking at their registration processes with the lens of accelerating licensure.
Health Canada is approving new methods and instruments for COVID-19 testing. University and private labs must now verify whether they are capable of performing the tests. If so, validation studies will be completed and a license to do the test for the Ministry of Health will be approved, the process for which has been expedited.
Some hospitals and private labs also plan to purchase additional equipment to perform testing, which can cost anywhere from $10,000 to $250,000 each.