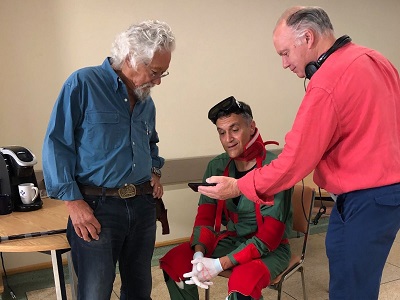 This September, David Suzuki and his team from The Nature of Things met with Jane Mattson, Manager, Continuing Education, to film an episode showcasing Michener's frail aging suit.
Hosted by the world-renowned geneticist and environmentalist, David Suzuki, The Nature of Things is currently in its 60th season. Every week, the program presents stories that are driven by a scientific understanding of the world.
Michener's frail aging suit – equipped with straps, bands and weights that limit movement in the joints – immerses its wearer into the experience of what simple activities might feel like for a frail older adult.
The focus of this episode was on aging and the difficulties experienced by people as they get older. It was filmed at Toronto Rehab Institute with Jane, David Suzuki and other members of the show. While David was keen to get into the suit, despite already being in his 80s, the team decided to suit up a younger author who writes about mental health during the aging process. Once set up, they asked him to walk around while they filmed on a phone and asked questions about the suit, how we use it and why we use it.
"What was interesting to me was that it was a very fast process," says Jane Mattson. "During the filming, David was asking the author questions about what he was experiencing without having anything scripted. He's very sharp."
The episode is expected to air in February 2020. Stay tuned for the link when the date is announced!