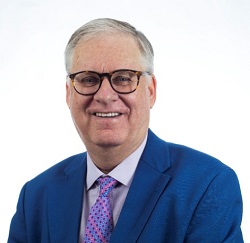 Michener Board of Governors member Dr. Daniel Andreae was recently selected by the International Association of Top Professionals (IAOTP) for the esteemed Humanitarian of the Year Award.
Dr. Andreae was honoured at IAOTP's 2019 Annual Awards Gala for the Male Visionary of the Year Award and also as the Man of the Year. He will be honoured for this recognition at IAOTP's 2020 Annual Awards Gala being held in New York City and also for his exclusive induction into their Hall of Fame.
Dr. Andreae is being recognized for this honour for having over two decades of professional experience in higher education, his dedication to the profession, his originality of thought and his passion for educating himself and those around him. He has devoted a significant part of his life and career to researching and educating those affected by Neurodegenerative Diseases and has demonstrated success not only in academia, but also as an outstanding community advocate and true visionary of his time.
Dr. Andreae has also generously supported Michener, donating the funds to launch a lecture series scheduled to begin in October 2020.