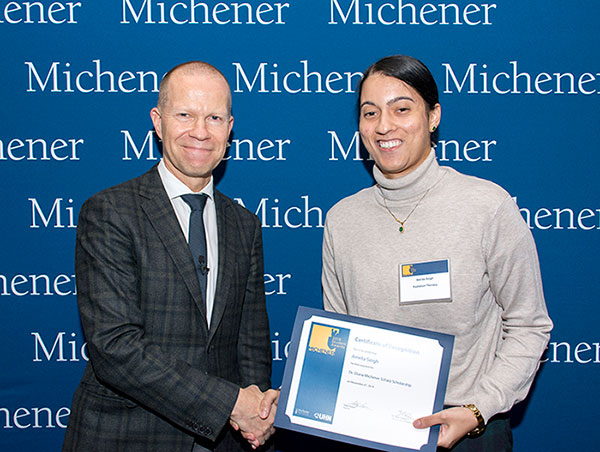 Amrita Singh always knew she was good at science, but what she didn't know is where that would take her.
Growing up, she was involved in her family's import distribution business from India and figured she'd eventually take on the business. However, given her interest in science and knowing she had the family business and her parents' support behind her, she decided to try something new and complete her Bachelor of Science at the University of Waterloo after high school.
"I fell in love with health care because I started volunteering at a hospital and physiotherapy clinic while I was in Waterloo, and I loved the patient interaction aspect," Amrita says.
She considered applying to medical school after her undergrad, but ultimately decided it wasn't for her. In the process of exploring some health and hospital management programs, she found The Michener Institute of Education at UHN.
"One of my brother's friends did the Cardiovascular Perfusion program at Michener and she was on a similar path as me, so she told me to check it out," says Amrita.
After being accepted into both Radiation and Respiratory Therapy, Amrita did some additional research and decided that Radiation Therapy was the right fit for her.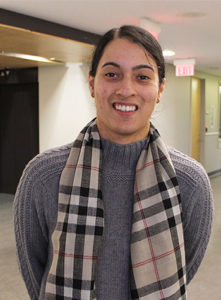 "I like the technology aspect of it a lot," she says. "It's very computer-based and the field is always advancing, so that was a huge attraction for me."
Now in her third year of the program, she received the 2019 Dr. Diana Michener Schatz Scholarship. Established in 1996 in honour of Dr. Schatz, founder and former President of The Michener Institute, this award is presented to a student who has undertaken a career transition while achieving academic excellence, exemplifying innovative thinking in their chosen applied health profession and contributing to the betterment of the Michener community.
Amrita has been hugely involved at Michener by joining the Charity Committee, acting as a peer tutor and assisting the Registrar's Office with events like Multiple Mini Interviews, Open House and Orientation.
"The business part of me never really left, so I also have a small business that I run," she says. "I import shawls and stoles from India and sell them here."
Currently, Amrita is completing her clinical placement at Sunnybrook Health Sciences Centre while also coaching basketball part-time.
In the near future, her goal is to graduate and become the best Radiation Therapist she can be. In the long term, she hopes to eventually return to Michener to teach future health care providers.