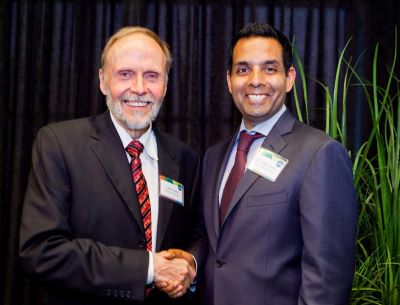 TORONTO — The Board of Governors of The Michener Institute for Applied Health Sciences has announced that Dr. Samir Sinha, one of Ontario's preeminent healthcare leaders and a champion of health of older Canadians, is this year's recipient of Michener's Honorary Diploma in Health Sciences.
"Without question, Dr. Sinha has played a major part in guiding Ontario's health system towards significant change that addresses the current and future healthcare needs of an aging population," says Cliff Nordal, Chair, Board of Governors at The Michener Institute. "His leadership also has had an impact here at Michener. Most notably he has provided inspiration and mentorship in the development of our Working With Seniors curriculum, which is aimed at equipping students – the healthcare professionals of tomorrow – with the confidence and competence to succeed in an increasingly senior-centric healthcare landscape."
The Michener Honorary Diplomas are awarded to individuals who demonstrate leadership and commitment to healthcare and who are dedicated to the advancement of applied health sciences education. This is the 13th Honorary Diploma in Health Sciences awarded by Michener.
"I feel both proud and privileged to be associated with such a distinguished group of peers who have been bestowed this honour by Michener," says Dr. Sinha. "One of the most effective ways we can better prepare the health system to respond to the growing needs of an aging population is through education. By preparing current and future generations of health care professionals to better understand older patients and the unique needs and challenges they face, as Michener is doing, we are also influencing the health system's capacity to transform and innovate in the way we care for our aging population."
Dr. Sinha is a passionate and respected advocate for the needs of older adults. Dr. Sinha currently serves as the Director of Geriatrics at Mount Sinai and the University Health Network Hospitals in Toronto. In 2012 he was appointed by the Government of Ontario to serve as the expert lead of the Ontario's Seniors Strategy, authoring Living Longer, Living Well, a landmark report on preparing the health system for the impact of a rapidly aging population. He is also an Assistant Professor of Medicine at the University of Toronto and the Johns Hopkins University School of Medicine.
A Rhodes Scholar, after completing his undergraduate medical studies at the University of Western Ontario, he obtained a Masters in Medical History and a Doctorate in Sociology at the University of Oxford. After pursuing postgraduate training in Internal Medicine at the University of Toronto, Dr. Sinha pursued his training in Geriatric Medicine at the Johns Hopkins University School of Medicine.
Dr. Sinha's breadth of international training and expertise in health policy and the delivery of services related to the care of the elderly have made him a highly regarded expert in the care of older adults and around the implementation and administration of unique, integrated and innovative models of geriatric care that reduce disease burden, improve access and capacity and ultimately promote health.
Quick Facts:
Previous honourees include:

Neena Kanwar
Dr. Vivek Goel
Dr. Marlene Scardamalia
Dr. C. Joseph Kurian
Dr. Donald Stuss
Mrs. Sonja Bata
Dr. Amatai Ziv
Dr. Robert Byrick
Dr. Daniel Klass
Dr. Sheela Basrur
Dr. David Naylor
Dr. Diana Schatz
The Honorary Diploma will be formally conferred on Dr. Sinha at Michener's 2014 Convocation ceremony on June 21.