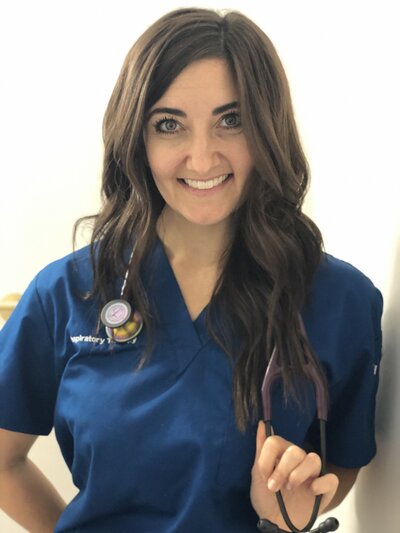 With a Bachelor of Arts in English Literature and Philosophy, a Master's degree in Eastern Philosophy, a Bachelor of Education, a Bachelor of Kinesiology, and as of this June, an Advanced Diploma in Respiratory Therapy, some would call Kaitlyn Evers a lifelong learner.
After completing teacher's college at Brock University, Kaitlyn began teaching kindergarten to grade six. It wasn't long before she realized the job market was saturated with qualified teachers for very few jobs. Within her hometown, it was taking the average teacher 10 to 12 years to move from supply teaching to a full-time contract.
Though she loved teaching, Kaitlyn also felt challenged by the limitations of the curriculum in reaching every child. Some children did not 'fit the box' of the curriculum, and that left her feeling like she wasn't doing enough to foster their learning.
Wanting to stay close to home with more job stability and predictability, she eventually decided to leave the profession.
In 2017, Kaitlyn had reconstructive knee surgery and spent three months on crutches. During this time, she worked with a physiotherapist to essentially relearn how to walk. Kaitlyn took an interest in the anatomical and physiological side of her rehabilitation, which led her to decide to obtain a degree in kinesiology. Because many of her credits from previous degrees were transferrable, she was able to complete the degree in a shorter time than is typically required.
"While I was in the kinesiology program, I had a keen interest in disease states – the "what goes wrong and why" aspect of health care," Kaitlyn says. "I started to look into other programs where I could further pursue this interest and my research brought me to Respiratory Therapy."
One aspect of Respiratory Therapy that she found appealing was how it's very much an umbrella term for many different pathways one can take. As a Respiratory Therapist (RT), Kaitlyn could practice in acute care settings, in the operating room, in clinics, in pulmonary function labs, in pediatrics, in neonatal care, in home care, participate in patient education and the list goes on.
"By pursuing health care, I am now in a position where I must do everything in my power to help my patients," she says. "By doing so, I finally feel that my career choice, personality and aspirations are more aligned."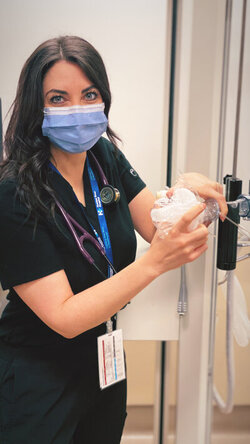 Now in her third year as a Respiratory Therapy student at Michener, Kaitlyn is the recipient of the 2023 Dr. Diana Michener Schatz Scholarship. Established in 1996 in honour of Dr. Schatz, founder and former President of The Michener Institute, this award is presented to a student who has undertaken a career transition while achieving academic excellence, exemplifying innovative thinking in their chosen applied health profession and contributing to the betterment of the Michener community.
"Pursuing a career change in my thirties has been a big challenge as I've had to balance full-time studies with part-time employment," says Kaitlyn. "Receiving this award shows me that the hard work I've put in and the many late nights studying were beneficial to my success. I'm humbled to receive this award and endlessly grateful for the recognition."
During her time at Michener, Kaitlyn was a student representative for the Respiratory Therapy Society of Ontario (RTSO) and the Canadian Society of Respiratory Therapists (CSRT). Both of these positions involved advocating for the profession and encouraging her fellow students to join these supportive associations.
Some of Kaitlyn's favourite memories from her time at Michener revolve around the summer simulation semester. Up until this point in the program, the majority of the students' learning had been done online.
"During the simulation term, we got to be on campus more frequently and participate in simulation scenarios in which we put what we had learned into practice," she says. "Aside from thinking fast on our feet, the simulations also included role play and we got to practice playing as different roles including leads, RTs, patients and parents of patients."
After graduating from Michener this June, Kaitlyn is thrilled to continue in a full-time position in acute care at Humber River Hospital, where she completed her clinical year. After she has better established herself as a RT and gained some years of experience, she hopes to pursue the Anesthesia Assistant program at Michener.
"I will always use the skills I gained as an educator to improve my practice as a health care provider," Kaitlyn says. "I look forward to where this new journey takes me and am grateful for all of the experiences that Michener has provided."