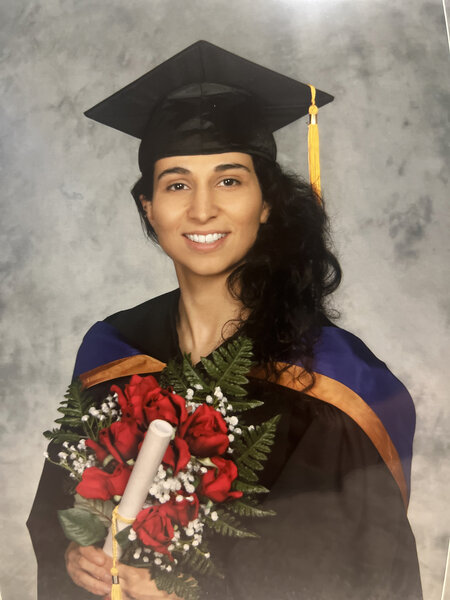 Farnaz Arian first heard about The Michener Institute of Education at UHN from her mother, who completed the school's Imaging Informatics Certificate Program. While completing her Bachelor of Science Degree in Kinesiology and Health Sciences at York University, Farnaz began looking into the programs offered at Michener and came across Chiropody.
"I was interested in the profession because I have a lot of foot-related injuries and conditions as a soccer player. I also noticed that Kinesiology is one of the prerequisites of this program, which was a perfect fit for me," she says.
Now in her third year as a Chiropody student, she received the 2022 Dr. Diana Michener Schatz Scholarship. Established in 1996 in honour of Dr. Schatz, founder and former President of The Michener Institute, this award is presented to a student who has undertaken a career transition while achieving academic excellence, exemplifying innovative thinking in their chosen applied health profession and contributing to the betterment of the Michener community.
During her time at Michener, Farnaz loved to participate in intramural sports, including basketball, dodgeball and soccer. She was also a residence Don in her second year and had the pleasure of tutoring students in the Chiropody program for courses such as Biomechanics and Pathophysiology.
"Unfortunately because of Covid, we weren't able to participate in many hands-on activities and missed out on some experiences and extracurricular activities," she says. "Despite that, I'm grateful for the online tools and technology that enabled us to stay connected and continue our education. We are fortunate to be living in a time where we have easy access to the internet and can stay in touch with our classmates and professors."
Soccer is one of Farnaz's favourite sports and she has been playing since she was a child. In her spare time, she plays soccer with an Adult Women's and Adult Co-ed league. She is also a second dan black belt in Taekwondo and enjoys writing and recording songs (a hobby she shares with her brother).
After graduating from Michener this June, Farnaz plans to work for another Chiropodist in the Greater Toronto Area to gain more clinical experience and enhance her patient and clinical skills.
"I eventually want to open my own clinic where I can help patients in need of foot care," she says. "By doing so, I want to continue to grow as a person and practitioner while giving back to my community."