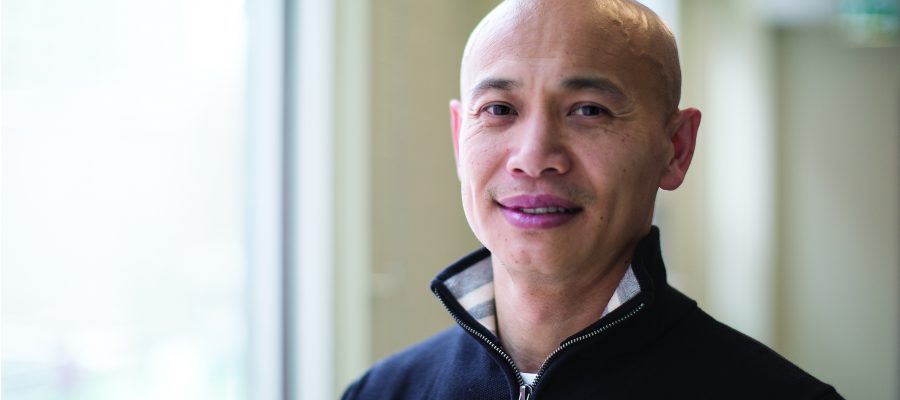 Jake Tran, Michener alumni and now President and CEO of Toronto Grace Hospital, always knew his future would lie with health sciences. After researching the work Respiratory Therapists (RTs) in ICU and emergency departments do with patients, Jake set his sights on Respiratory Therapy. Between his time at Michener and now, Jake has been part of many health care teams in many different capacities, and proven himself to be a leader in health care.
After graduating from Michener in 1997, Jake worked in home care and with acute care patients at the Markham-Stouffville Hospital, where he continues to practice. Between 2005 and 2015, in addition to working at the hospital, Jake taught in the RT program at Michener and ran his own home-care business to serve clients in the community. Once he sold his company, he ventured into management with the Toronto Grace Hospital, where he served as a front-line RT, managed a patient care unit, and eventually started the Respiratory Unit at Toronto Grace Health Centre.
Jake's passion for helping respiratory patients went beyond his professional dedication. In 2003, when the SARS1 virus was sweeping the nation, Jake was working in the acute care unit of his hospital when he contracted the virus. Having experienced a severe respiratory virus as an RT, he was able to more deeply understand all aspects of diagnosis, treatment and recovery for patients, which he is applying now to those affected by the COVID-19 virus.
"Not only is the immediate response an important factor in treating patients, it's important to consider the patient's future in their care plan," says Jake. "Having been in care for an extended period of time, some patients may face challenges when they return to their lives after they're discharged from hospital."
About four years ago, UHN and Toronto Grace Hospital partnered to support patients leaving the ICU who needed further care through the Recover program, which was led by Dr. Margaret Herridge. As patients would move from the ICU, but were still in need of critical care, they could go to Toronto Grace for rehabilitation, where the team followed the patient all the way through their recovery and their return home to their community.
"This program introduced a continuum of care that is still in action to this day", says Jake.
Two years ago, the Toronto Grace partnered with UHN on a Multi Organ Transplant program, where post-transplant patients would also move to Toronto Grace for rehabilitation before going back home to their communities. This rehabilitation program has since expanded to support patients in need of both physical rehabilitation as well as mental health support.
This past April, Toronto Grace, Michener and UHN collaborated to launch the Grace Recover Chronic Critically Ill Ventilator Program. This program allows patients who are chronically or critically in need of ventilator support to go to Toronto Grace to receive care and support, rather than an ICU or emergency department. The program opened 20 beds for these patients during the current pandemic, although Jake says he sees the need for a permanent program of this caliber to ensure patients have access to rehabilitation opportunities once they're no longer in need of ventilator support.