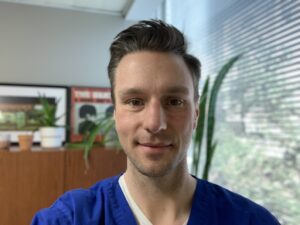 As a charge therapist in UHN's Respiratory Therapy department covering both Toronto General Hospital and Princess Margaret Cancer Centre, Philip Graham knows that working in today's health care landscape requires more than everyday clinical skills. Human skills like problem-solving, communication and a bit of creativity have become essential in patient care.
A 2014 Michener grad, Philip's role is to supports his team with operations like recruitment, education development and ensuring that his department meets best practices. But with significant staff shortages across health care and the triple threat of COVID-19, RSV and flu season in full swing, Philip and the Respiratory Therapy team had to shift their model so they can support the heaviest workloads.
"We're seeing the sickest of the sick right now," says Philip. "And we've had to change gears this year so that our critical care team receives more hands-on support. This is hard knowing that we're already doing everything we can."
Philip started his leadership role in 2020 – at the height of the COVID-19 pandemic – and he learned quickly that the role was much more than department operations. Philip needed to make sure the team had every tool in place to succeed in their roles under extreme pressure, and this is where the team's human skills became crucial in their work.
"Health care is a team sport. We need to be innovative and look for ways to take on more and meet the new challenges we're seeing in hospitals. I think soft skills are key for growing your own profession and advocating for patients. And this is what we like to teach new staff," Philip says. "I have the distinct pleasure of working with an outstanding team that not only strives to provide excellent patients care, but are also vocal about improving processes and implementing meaningful change."
Innovative thinking and taking initiative to jump into a new role are what makes Philip and the team work seamlessly together. And for Philip, it's also rewarding on a professional level: "I'm not naive that health care is a challenging industry, but these challenges can lead to a lot of growth and learning."
Philip ties his sense of leadership and the value of human skills to his experience at Michener. He learned that leadership means more than running a team, and that empowering colleagues' unique expertise is when real team success happens.
Looking back on his time at Michener, one memory stands out for Philip that showed him what true leadership looks like, and he carried this with him into his career. Philip needed to take some time off from his program at Michener, and he ended up graduating with a new cohort.
"Michener supported me so much in that time, and I'll always remember it," he says. "This support and empathy ultimately led to my success in the program – and it was clear that Michener faculty and leadership wanted me to succeed just as much as I did."