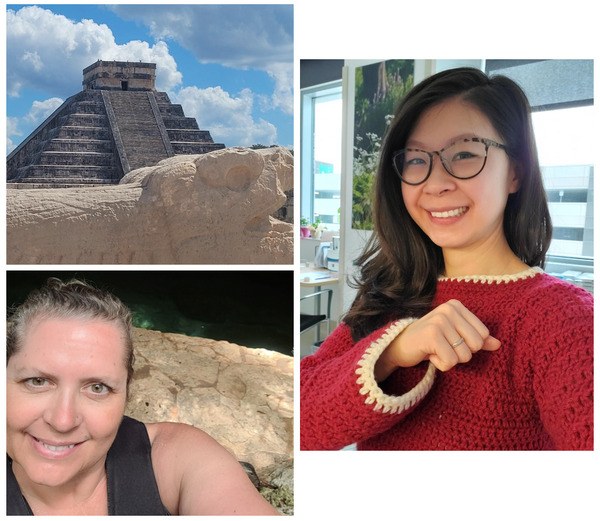 About a year ago, Michener's Alumni Board created some content for our readers. As the world moved into year two of the pandemic, we talked about how we were coping with lockdowns, working in health care in uncertain times, vaccines, vaccine hesitancy, restrictions and our slow emergence into regular life. During this time, we explored new passion areas, we changed jobs and moved cities. We learned new ways to do the things we loved – like running a Sunday School in the new normal. Our wants and needs didn't change, but our everyday lives did. So, three years into the global pandemic, as we move to endemic, we thought we'd let you know what we've been up to. As we emerge from our chrysalises, blinking at the bright lights, still a bit leery of big crowds, we are looking for new challenges and a return to some of our "old" ways.
Travel was pretty much the biggest thing that we all missed – aside from friends and family, of course! So, where have we been? The Dominican Republic, Mexico, Jamaica, Brazil, Niagara Falls, Tanzania, Chicago, New Orleans, Alabama, Armenia, Georgia, Ireland, Iceland, India… with more planned!
New activities included learning samba and Afro-Brazilian dance in Brazil, crocheting hand-made sweaters and wearing them proudly, of course. Exploring new restaurants and breweries. Getting out and about in new neighbourhoods became key to adjusting to new surroundings, as several of us moved. One Board member opened a new Islamic centre in Barrie and embraced small(er)-town life for better access to nature, including beach walks before and after work. Imagine!
We returned to things we love. One of us trained for his 15th Ride for the Cure in Toronto. Annual mother-daughter trips and family reunions took place. The arrival of new babies for two alumni (who we get to see on Zoom), securing new houses and marriage engagements round out our great news.
Learning never stops in health care. We took on BIG courses of study like the Anesthesia Assistant program (Michener) and learned new ways to support our jobs with courses like AI for Clinical Champions (Michener) and Palliative Approach to Care (de Souza Institute). One of us is halfway through an MBA, no small feat with a new job, new city and growing kids!
The greying of our professions (no disrespect!) means staff retirements, and this means new opportunities. Senior roles came available and some of us stepped up, choosing to lead and manage people and processes.
What did the pandemic teach us? Gratitude, first and foremost. When we were no longer allowed to just grab a group of friends and head to the movies or hop on a plane and see family – we yearned for what we once had. We learned what's important to us. We learned how to be adaptable, if nothing else. We learned to be resilient. Having meaningful work in a global crisis helped, but the toll of short staffing and difficult times weighed on us. Supportive family and friends, even when we couldn't see them for a meal or a movie, made all the difference.
Authors: Hollin Ng, Jia Inacio, Raquel Rubinoff, Eryl Fraser, Meaghan Guistina Stayzer, Ruvette Coelho, Shelina Dhalla, Christine Nielsen