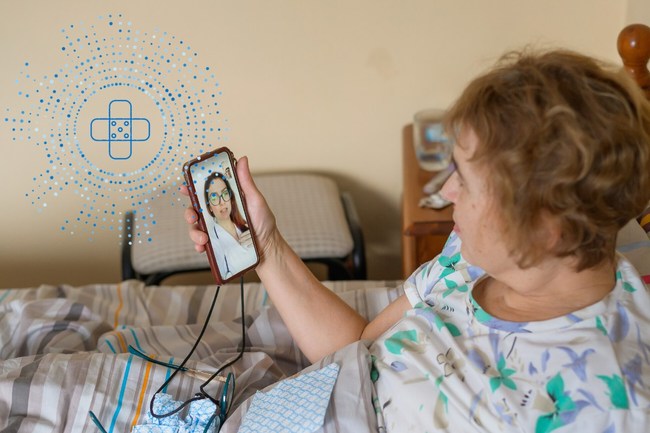 Swift Medical, SE Health, AlayaCare, Woundpedia, The Michener Institute of Education at UHN, the Mayer Institute and many others are teaming up to connect patients with wound doctors, nurses, and experts – bringing immediate telehealth relief to thousands of Canadians.
According to Wounds Canada, 30-50% of all health care in Canada involves a wound. With the ongoing spread of COVID-19, thousands of Canadians with chronic wounds are struggling to access the critical wound care they need while in isolation.
With facility lockdowns, community self-isolation and other safety measures in place across many senior care organizations, wound care providers are increasingly unable to visit their patients in-person. Finding new ways to continue delivering wound care is essential – without timely access to care, untreated wounds can quickly lead to infection, hospitalization, amputation and death.
To address this challenge, forward-thinking leaders have come together to form the Telewound Coalition: a trusted, best-practice collective of clinical experts, healthcare providers and technology innovators working together to provide access to immediate, remote wound care throughout the COVID-19 crisis. The Coalition's objectives are to ensure accessibility and continuity of wound care, to preserve the health and safety of our most vulnerable patients and care providers, to prevent further spread of the virus, to decrease demand on personal protective equipment (PPE) and to alleviate hospital capacity pressures.
"We are only months into this pandemic and with no clear end in sight, the serious effects of delaying wound care need to be addressed in a strategic way," says Carlo Perez, Founder and CEO of Swift Medical. "The innovative solutions we create today will not only ensure continuous and compassionate care now, but will also permanently shape the future of care delivery."
The Coalition represents an industry-first, collaborative approach to better integrating our diverse wound care ecosystem in Canada. Each partner organization plays a vital role in supporting the patient's wound care journey and, together, through a unified and symbiotic strategy, the Coalition will make an immediate and lasting impact on the delivery of wound care across the country.
"SE Health is proud to be part of this trailblazing coalition," says Nancy Lefebre, Chief Clinical Executive at SE Health. "We need to empower patients in their own homes and communities. By expanding access to clinical care and virtual visits, we're helping to keep the most vulnerable patients healing and healthy at home."
"Moving to virtualize wound care is vital now more than ever due to the COVID-19 pandemic," says Adrian Schauer, CEO of AlayaCare. "As the leading home and community care technology solution adopted across Canada, we can help home care providers across the country seamlessly access remote wound care expertise and provide the best care for their patients in isolation."
Through this unique collaboration, the Coalition can immediately connect thousands of Canadians and their care providers with wound care specialists from their home or residence. To power this connectivity, Swift Medical will provide the underlying technology, their new Telewound module, accessible to patients and their care providers at no cost. This will enable thousands of virtual visits a day, keeping patients healthy and in place, and out of already overwhelmed hospitals.
"The Telewound Coalition partnership is allowing The Chiropody Teaching Clinic at the Michener Institute of Education at UHN the opportunity to provide virtual wound care to those in need in Canada during Covid-19," says Antonietta Galati, Chiropody Clinical Coordinator, Michener.
"It's very important to have an interprofessional, complex wound assessment team," says Dr. Gary Sibbald at Woundpedia. "20% of the wounds make up 80% of the cost. A wound management system that accurately tracks healing trajectories and connects providers with each other and their patients can improve patient care outcomes and save health care dollars."
Given the rapidly evolving nature of the pandemic, the Coalition will continue to expand its membership and amass additional expertise and capabilities. The Coalition's technology and clinical network are established and ready to provide virtual wound care in Canada, ensuring continuity of care for patients during this pandemic.
About the Telewound Coalition
The Telewound Coalition is a North American network of wound care experts and innovators assembled to provide ongoing, remote wound management in Canada and the US. If your organization is interested in accessing the Coalition, as either a healthcare provider in need of telehealth wound care or an organization who can support the delivery of remote wound care, please visit: www.telewoundnow.org.