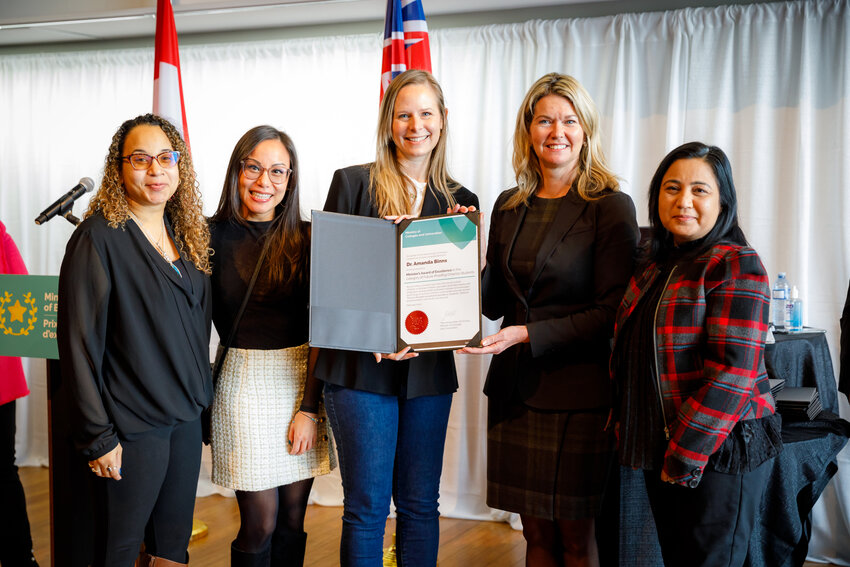 For families of autistic children in Northern Ontario, a pilot program led by UHN and Holland Bloorview researchers is bridging some critical gaps in early intervention and social inclusion for their children. Students and researchers involved in the project, a student-led clinic aimed at delivering virtual autism supports in alignment with the needs and values of clinicians, patients and families, were thrilled to have their work recognized by receiving a Minister's Award of Excellence from the Ministry of Colleges and Universities in the category of Future-Proofing Ontario's Students this past February.
Student-Led Environments to Deliver Virtual Autism Supports for Wait-times (SLED-VAST) is the newest Student-Led Environment (SLE) in the Toronto Academic Health Science Network. The project is led by the Centre for Advancing Collaborative Healthcare & Education (CACHE), The Institute for Education Research at UHN (TIER) and Holland Bloorview Kids Rehabilitation Hospital (HB), with the George Jeffrey Children's Centre as their main partner organization in Northern Ontario.
SLEs are unique workplace-based learning opportunities where health professional learners, under the supervision and support of preceptors and facilitators, collaborate to create a discipline-specific or interprofessional learning environment, build their collaborative leadership competencies and address a significant and identified gap in the workplace that would otherwise not be met.
The SLED-VAST Consortium is comprised of various organizations with CACHE, TIER and HB as the lead organizations, helmed by Principal Investigators Dr. Stella Ng, Director & Scientist, CACHE and Scientist, TIER, and Dr. Kathryn Parker, Senior Director, Teaching & Learning Institute, HB. There are also two operational leads – Dr. Amanda Binns, Speech-Language Pathologist, HB and Clinical Manager, SLED-VAST, and Farah Friesen, Research Associate, CACHE and Education Investigator, TIER.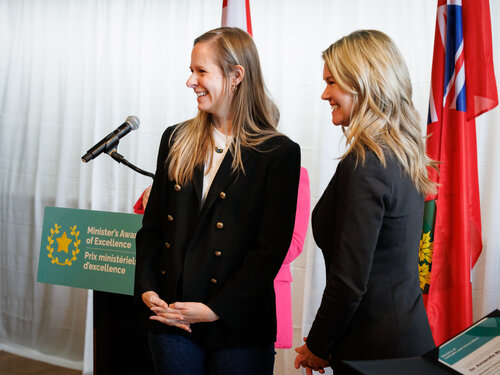 As this initiative was supported by the Ontario Autism Program Workforce Capacity Fund, its focus is on developing capacity for Speech-Language Pathology, Occupational Therapy and Social Work students from the University of Toronto and McMaster University to work with autistic people and their families after graduation.
"Attention to interprofessional education and practice, collaborative leadership, innovation by drawing upon human-centred design thinking processes, transformative education and critical pedagogy are what make SLED-VAST unique," says Farah Friesen.
In line with the goal of design thinking, empathy interviews were conducted with clinicians and families across Ontario. This led to identifying needs and gaps, according to clinical and experiential knowledge.
As a result, the students began working on two projects identified as a priority. The first was developing tools and trainings that will make the autism early identification process more efficient and compassionate. The second was increasing social inclusion by developing a program that students will deliver in schools to support learning about neurodiversity.
In their feedback, students reported that one of the highlights of SLED-VAST was learning from the experiential knowledge that the project's two Family as Faculty (FaF) members, Gunjan Seth and Alifa Khan, bring.
Gunjan is the mother of a 15-year-old boy with autism and Attention-Deficit/Hyperactivity Disorder (ADHD). She has been a family leader at HB since 2014 and is currently Co-Chair of the Family Advisory Committee. In her role as FaF, she co-facilitates the hospital's Parents Support Network and SLEs.
"As a proud immigrant, parent and caregiver, I faced immense barriers and challenges while navigating general health care and autism support for my son," she says. "I wanted to be part of this project to share my lived experience with these amazing students in the hope that it will help other parents to seek early intervention and support services for their child with autism. Families often face not only a waiting period to receive a diagnosis but additional waitlists for autism services and support. This meaningful work will help to bridge those gaps in the system and may positively impact a family's quality of life."
Alifa has a three-year-old son and a 14-year-old son that have been diagnosed with autism. She's been a FaF member since the very first cohort, which began training in 2019.
"We're aware that if there is going to be an autism diagnosis, the earlier the better," says Alifa. "I've seen the difference early intervention can make in my three-year-old versus my 14-year-old."
"I think these projects are making a difference because they've noted there is a gap and are providing families with an intermediate step towards some kind of help, whether it be a formalized diagnosis, services or resources that will allow families to better explore what's happening with their child."
The first cohort of students began in September 2022 and the fourth cohort will end their projects in March 2023, which is currently the last planned cohort of students due to the grant funding period.
"We were very surprised and encouraged by the enthusiastic response of students as this is a volunteer initiative they're choosing to be involved in," says Amanda Binns. "We initially expected maybe 30 students to join starting in September 2022. Within the first day, we surpassed that goal. We ended up having 37 students registered across four cohorts and currently have 36 students waitlisted for future cohorts if we receive additional funding."
Students who have participated in the program also reported feeling more confident in the area of autism, being inspired to talk with friends, family and colleagues in other fields. This confidence has helped them to view themselves more as leaders.
"Receiving the Minister's Award means a lot as it feels like recognition for a way of delivering education and clinically-relevant practice experiences for learners that is not necessarily the norm yet," says Farah. "It also means recognition of collaboration; it was wonderful they allowed us to apply and accept the award as a team. Often, we're recognized only using individual metrics when we know that working together is valuable and improves outcomes – whether it's education, research or practice."
"The enthusiasm, leadership and creativity of the students is truly inspiring," says Amanda. "We thank them for their work and time – without them, SLEs and SLED-VAST would not be possible."