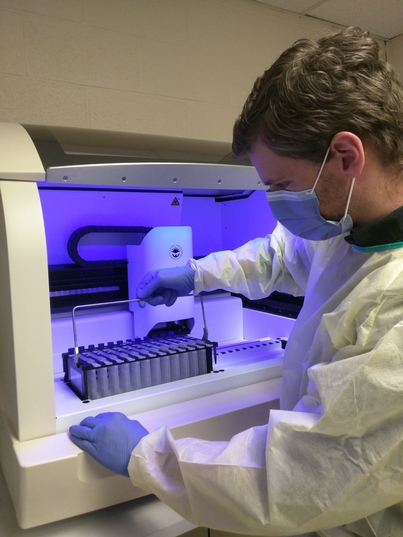 When the call came, Ryan Wybenga and his colleagues were eager to help.
As the volume of testing of COVID-19 swabs overwhelmed the capacity of Public Health Ontario labs, Ryan's Shared Hospital Lab (SHL), where about 80 per cent of the core molecular team are graduates of The Michener Institute of Education at UHN, was among those asked to help ease the strain.
"Every single person is working extra hours, taking on extra work and doing their part, whether part of the molecular team or not," says Ryan, Assistant Professor in Michener's Medical Laboratory Science program and Michener alumni. "It's a real and tangible chance to make a difference with our skills and SHL is stepping up."
A lab consisting of medical lab technologists and technicians representing several Toronto hospitals, SHL is now doing more than 500 COVID-19 tests each day, with plans to increase the capacity.
"This is a monumental achievement," he says. "More equipment and staff are on their way to continue ramping up testing, and 1,000 tests a day is the goal we're looking toward now."
Microbiology is an inherently complex, resource intensive and expensive discipline. In an effort to speed turnaround times and lower expenses through consolidation of services, SHL was born in 1997. A joint venture between The Scarborough Hospital and North York General Hospital, it now also includes Sunnybrook Health Sciences Centre, Michael Garron Hospital (formerly Toronto East General) and other Scarborough campuses, including the Scarborough Centenary site.
The lab functions out of its own location and receives specimens from partner sites.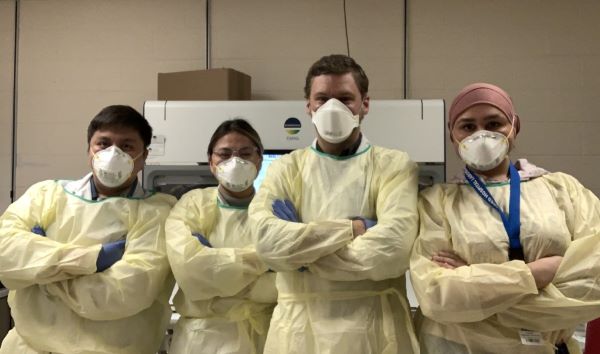 Ryan was on the original SHL team that worked on respiratory viral testing for influenza and other common viruses for years before joining Michener as faculty in August 2019.
When the call came that all-hands-on-deck was needed for COVID-19 testing, the team couldn't refuse.
SHL is performing what's called polymerase chain reaction (PCR) testing. A molecular biology technique that makes millions to billions of copies of a specific genetic target, it allows scientists to detect a very small amount of virus in a sample by amplifying the target DNA or RNA to detectable levels.
In addition to many of the lab's core molecular team being Michener graduates, SHL maintains a close relationship with the Institute and often reaches out to faculty about potential hires and references.
SHL even asked Michener's current graduating class to help with tasks they are allowed to do while waiting for their national exam results.
The lab's impact has certainly helped Public Health Ontario labs.
"SHL now being online is able to reduce that burden and hopefully help them clear some backlog," Ryan says. "Reports are showing our turnaround time for results is nearly two days faster than the average time from before we came online, even seeing same-day resulting for many of our specimens."