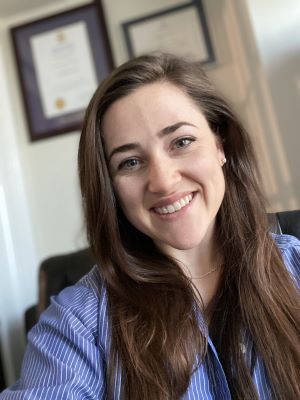 Meagan Noble has worked as a Registered Nurse for almost a decade, acquiring extensive experience in emergency rooms in both rural and urban environments. For the last five of these years, she has been engaged in travel nursing, taking her to places like Sydney, Nova Scotia, where she gained invaluable experience in nursing research, the intensive care unit, as well as periodontal surgery (anesthesia).
As of April 2022, Meagan has been employed as a Nurse Practitioner with Indigenous Services Canada.
"I started with Indigenous Services Canada as a Registered Nurse in August 2021, working in a First Nations community in Pikangikum in Northern Ontario," she explains. "While working in the North, I witnessed the pervasiveness of diabetes and the toll it can take on a community."
With an impressive educational background that includes a degree in Kinesiology studies from Western University in 2012, completion of a compressed nursing program at the University of Toronto (U of T) in 2014, and a Master of Nursing – Nurse Practitioner program with a Collaborative Specialization in Resuscitation Science from U of T in 2021, Meagan concedes that her knowledge of diabetes still felt limited.
"I wanted to learn beyond the basics and truly grasp the principles of effective education in multiple different populations."
Meagan began researching programs that would provide her with the training she needed to best treat her patients.
After speaking with colleagues who attended The Michener Institute of Education at UHN (Michener) and spoke of their positive experiences, she decided to enroll into the Diabetes Educator Certificate program at the school.
"I also wanted to write the national certification exam for diabetes educators, and I heard that Michener's program is a great preparation for that." Meagan started the course in January 2022.
"I was expecting the program to provide a comprehensive knowledge of diabetes, which it did. What I didn't expect was how valuable learning the principles of education were." She notes that her previous training did not emphasize how to treat patients in rural communities with minimal resources and low health literacy, and this was where she struggled.
"I felt a lot of short-comings in my education up until that point. The tools and strategies I learned at Michener – such as how to properly communicate with patients in a way that allows them to understand information, to empower them to self-manage their diabetes, and to build effective therapeutic relationships – were invaluable to me."
Meagan says the instructors and students alike were supportive, and the anecdotal experiences that were shared in-class helped solidify her understanding.
"Whenever I had specific questions, such as how to initiate insulin in pregnancy, as I find that challenging in the North, they provided answers and practical advice."
As a Nurse Practitioner working in the North, Meagan also points out the value of understanding appropriate language-use in patient care, and conversations around equity, diversity, and inclusion.
"What I really liked about the Michener program was the emphasis on the importance of language. There needs to be a shift in our language in health care. We are trying to move away from 'diabetic' language and the negative connotations of 'controlling your blood sugar'. Our clients are people first and we don't want to label them." She says that she has shared this newfound knowledge with her colleagues at work, and it has sparked a positive change in the narrative amongst the community she works in, by creating a safe space for patients. "Diabetes is something that affects these communities disproportionately, and I wanted to do a good service to them overall by knowing more about this disease and communicating information without stigma."
A year after taking the course, Meagan says she has gained immense confidence in her role. "The course has helped me by providing more thorough diabetes knowledge. It has taught me how to do an assessment of someone's learning style, getting to know why and how they learn, and providing effective resources for them.
"I think five years from now I am going to see a difference in the community I work in and see more patients on effective therapy that will help them decrease complications."
The Diabetes Educator Certificate program at Michener through Continuing Education starts September 11, 2023. Registration is now open.