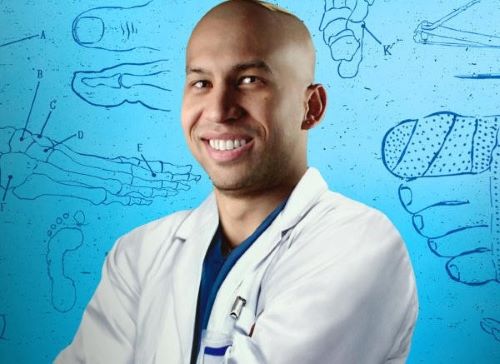 With May being Foot Health Month, we're featuring a Michener alumnus who is raising awareness on the importance of maintaining proper foot care in a creative way.
From graduating with an Advanced Diploma in Chiropody to having his own TV show, Jonathan Tomines' career has been anything but ordinary.
Jonathan grew up watching and assisting his father, who worked as a Chiropodist for over 30 years, so he had his heart set on being a foot specialist from a young age.
He intended to apply to the Chiropody program at The Michener Institute of Education at UHN straight out of high school. Unfortunately, this was the same year the school changed its admission requirements to include an undergraduate Bachelors degree, meaning he was no longer eligible to enter the program. Instead, Jonathan pursued a degree in Biomedical Sciences at the University of Waterloo before completing his degree in Chiropody at The Michener Institute in 2012.
After finishing school, he returned to his father's office in Mississauga to work.
"Initially, I had no clients of my own and I had to start from scratch," he says. "I was working hard six days a week, trying to meet a lot of doctors and build my reputation in the medical community."
Two years ago, Jonathan decided to start a Youtube channel dedicated to sharing some of the interesting things he sees as a foot specialist.
"I was a big fan of Dr. Pimple Popper and I thought that what I do is pretty gross and unique, and there are a lot of people who like that kind of stuff and would like something like this," he says.
One and a half years later, Jonathan's channel "The Toe Bro" had more than 100 million views. It was around this time he was contacted by a production company about making The Toe Bro into a TV show on A&E.
The show premiered in March 2019 with six episodes in the first season. In each episode, Jonathan tackles issues Chiropodists see on a regular basis – warts, ingrown toenails, fungus growth and so on.
However, one of the most shocking episodes involves him discovering a wooden shish kabob skewer lodged inside a patient's foot. The patient had visited the hospital twice, where they were unable to discover the source of his foot pain, before setting up an appointment with Jonathan.
After the show aired, he was even asked to appear on an episode of Doctor Oz to discuss his hack to treat ingrown toenails.
Jonathan feels this opportunity helps educate people on how they can protect their feet from harmful disorders and improve their overall foot health.
"I see a lot of comments on Youtube and I receive emails saying because of these videos, people are actually looking at their feet and their family and friends' feet," he says. "If they have foot problems, more people are finding a specialist to help with that."