By Sharon Aschaiek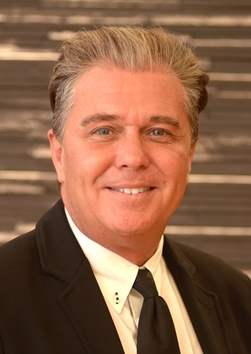 As the new president of St. Joseph's Health Centre Guelph, David Wormald brings to the table extensive leadership experience, strong people skills, and a proven ability to enhance organizational effectiveness and patient care. But he also has another attribute that can be hard to find among C-suite hospital executives: primary health care skills that he was practising up until 18 months ago, while already well into his management career.
"That was always really important, because it helped me be current on what was happening on the front line," says Wormald, who trained in medical radiation technology at The Michener Institute.
Wormald, who earned a diploma in radiography in 1983, says his Michener memories include much more than gaining the fundamental knowledge and skills of his field. He recalls feeling part of a tight-knit community, with teachers who fired up his curiosity and cared about his success. He also remembers learning about the importance of consistently delivering quality patient care.
"It is something I'll always carry with me, that the patient is really at the centre of everything we do, and deserves the best at every interaction," he says.
Wormald practised for 19 years as manager of medical imaging at St. Michael's Hospital, and two years as director of diagnostic services at Halton Healthcare Services. Along the way, in 1995, he returned to Michener to complete a diploma in magnetic resonance imaging. In 2004, he became integrated assistant vice-president of diagnostic services and the medical diagnostic unit at Hamilton Health Sciences and St. Joseph's Healthcare Hamilton. It's a role he held for 11 years, and that he juggled with part-time MRT work at the institution for 10 of those years.
During that period, Wormald's self-admitted overachievement streak led him to return to school yet again, this time to achieve his BA in political science at the University of Toronto in 2005, and then his MBA at McMaster University in 2011. Since 2012, he has also been an assistant professor in the Department of Radiology and a sessional instructor in the DeGroote School of Business, both at McMaster.
Among Wormald's key achievements at his last job was rebuilding the imaging department to improve workflow and promote more positive interactions with patients. The initiative earned him the Ontario Hospital Association's 2010 Family and Patient-Centred Care award. A second accomplishment involved developing a more efficient, safe and cost-effective way for cancer patients to receive intravenous chemotherapy. The initiative earned him the Cancer Quality Council of Ontario's 2014 Innovation Award.
At St. Joseph's Health Centre Guelph, which focuses on long-term, complex continuing and rehabilitation care, Wormald is responsible for 665 staff, and a facility that includes 240 long-term care beds and 86 specialty hospital beds, as well as several community outreach programs and outpatient clinics. While less than a year in, he's very clear about what he wants to achieve, and how he wants to lead his team to achieve it.
"It's about that triple aim of the patient experience, patient outcomes, and using our health care dollars in the most financially prudent way," he says. "Making that happen means actively listening to our people, and involving and empowering them to be part of the change."