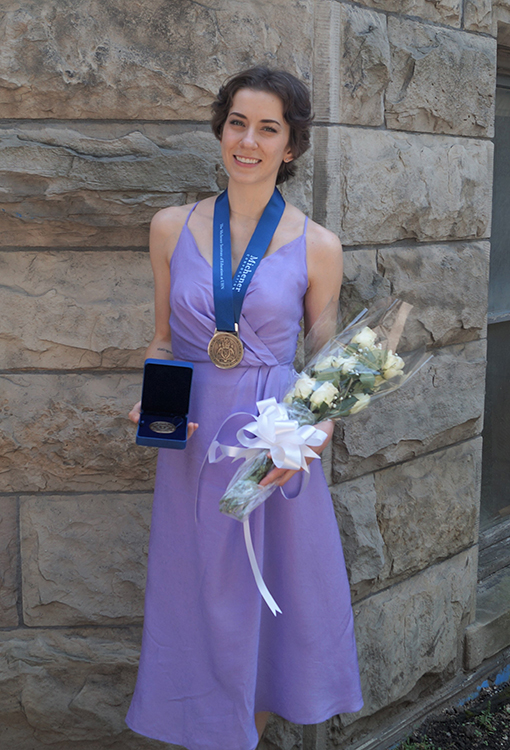 Victoria (Tori) Marko has loved laboratory science ever since she was a child. She recalls spending hours playing with her toy microscope and chemistry set, as well as the ways in which her parents supported her interest by researching fun science activities for them to do and enrolling her in science day camps.
Tori grew up in Markham, ON but has lived in Hamilton since 2011. After completing high school, she attended McMaster University for a Bachelor of Science in Molecular Biology and Genetics, followed by a Master of Science in Biochemistry.
Upon completing her graduate program, Tori thought she was set on staying in academia.
"I loved having the freedom to walk into the research lab and ask myself what do I want to do today? Will I discover something new?" she says. "However, there's no guarantee that your work will have any meaningful clinical impact."
After working as a Research Laboratory Technician in academia for a few years, Tori decided to return to school to become a Medical Laboratory Technologist (MLT).
"That was a huge decision for me because I was so passionate about basic research, and I still am," she says. "As an MLT, I still get to do science but I know with certainty that I'm helping save lives every single day."
This past June, Tori graduated from the Medical Laboratory Science (MLS) program at The Michener Institute of Education at UHN and was the recipient of the 2023 Governor General's Collegiate Bronze Medal. The Governor General's Academic Medals have recognized the outstanding scholastic achievements of students across Canada for more than 125 years. The Collegiate Bronze Medal was established to celebrate the exceptional achievements of students and is awarded to the Advanced Diploma program student who receives the highest overall average in their graduating year at Michener.
Tori says that receiving this award is a huge honour.
"I've never been at the top of my class before. I think those years I spent working in research really helped me develop my perseverance and critical-thinking skills," she says. I worked really hard for this and I'm incredibly proud."
Tori's favourite memory from her time at Michener is the day she and a few friends had an impromptu karaoke party on campus. She also has fond memories of helping to establish the Pride Michener Club.
Tori spent the last year of her MLS program completing a clinical placement with the Hamilton Regional Laboratory Medicine Program. As she had a great experience working there, she accepted a job in the Malignant Hematology Lab at Juravinski Hospital (a Hamilton Health Sciences site) where she is now working.
Tori feels that the COVID-19 pandemic has shed a light on how critical MLTs are to the healthcare system.
"We are the ones who perform and interpret COVID-19 polymerase chain reaction (PCR) tests, and yet we are still overworked and understaffed," she says. "I think the pandemic made it blatantly clear that adequate staffing and investment in public healthcare is critical."
Tori continues to stay connected with a few Michener students as a mentor and expects to stay connected with the Michener community in the future. She also hopes to get involved with training future MLTs during their clinical rotations.