The Michener Institute and University Health Network are making history in Canadian healthcare.
Michener officially integrated with UHN last month to become The Michener Institute of Education at UHN. The first-of-its-kind in Canada partnership is set to transform health professional education by embedding a school within a hospital network.
The move will more deeply integrate teaching into daily clinical practice and research at the country's biggest teaching hospital and health research facility.
"Paradigms in education are changing rapidly, no more than in health professions education," Dr. Brian Hodges, UHN's Executive Vice-President Education, told an event marking the integration held at the Institute on Wednesday.
Highlighting emerging changes to technologies and practices in health care, Dr. Hodges, who now oversees Michener education programs, says that integration is about empowering patients and students as partners.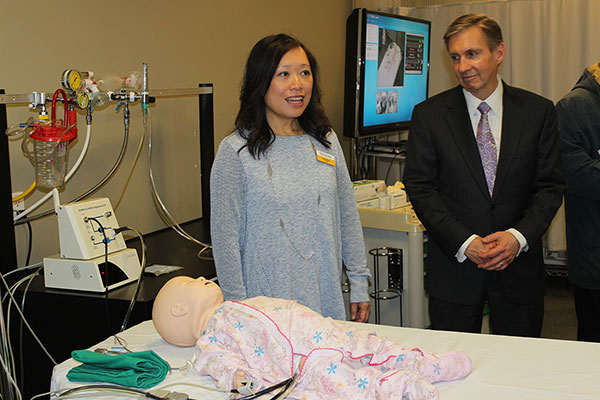 Respiratory therapist Felita Kwan, a member of the faculty at The Michener Institute of Education at UHN, explains to her audience, including Dr. Peter Pisters, UHN President and CEO, the use of the "SimBaby" in the Institute's Centre for the Advancement of Simulation Education, or CASE. (Photo: UHN)
The Michener Institute is home to programs that train in-demand applied health professionals, including radiological technologists, magnetic resonance imaging (MRI) technologists, anaesthesia assistants and medical laboratory technologists. These specialized and highly technical professions are at the forefront of screening, diagnosis and management of disease.
'Dawn of a new era'
"Medicine is changing rapidly, and we need to be positioned to pivot and move aggressively at the same pace as science is moving, and as changes in the delivery system are coming about," said Dr. Peter Pisters, President and CEO of UHN.
Calling it "the dawn of a new era," Dr. Pisters' vision for Michener is integral to UHN's quest to become a High Reliability Organization – one that does everything to eliminate avoidable risks and promote the safest environment for patients.
"We're here to work together to facilitate this transformation as two organizations coming together around a shared mission in an incredible period of time in the evolution of science and medicine," Dr. Pisters said.
At the Michener Institute of Education at UHN, students will learn from within the hospital network from leading medical professionals using advanced technology that will equip them to provide the highest, safest quality of care.
Hospital employees will have more opportunities for real-time continuing education to keep pace with rapidly changing patient needs and technologies.
The partnership between UHN and Michener comes at a time when advances in personalized medicine are driving change in the healthcare system.
"Personalized medicine promotes the idea that medicine should be proactive rather than reactive," said Amanda Betts, a genetics technology student at Michener. She explained that using a patient's genetic information, health care professionals can obtain unique, patient-specific information that can be used to diagnose, treat, monitor and prevent diseases such as cancer in patients and even in their families.
Amanda credits her education at Michener for providing her with the hands-on training that prepared her for a clinical placement at Eastern Health in St. John's, Newfoundland.
"The leading-edge curriculum at Michener goes beyond the textbook and lab," she said. "It gives us a solid grounding also in the theory and accompanying ethical issues surrounding personalized medicine, so that we are always considering the whole patient."
Rapid-response curriculum
As new technologies and treatments are developed, Michener's expertise in rapid-response curriculum design will be key to getting these technologies to patients sooner. Michener's model of education has prepared students like Amanda to be at the forefront of science and clinical practice.
"I'm thrilled that Michener is now integrated with the incredible research teams and Centres of Excellence at UHN," Amanda said. "Their research innovation will influence our curriculum for the better, and their clinical support will provide our students more opportunities to learn in real-time."
The Michener Institute of Education at UHN was inspired by the Mayo Clinic in the United States, which pioneered the model of educational institutions to work hand-in-hand with hospitals to better meet patient and health system needs.
"The Michener Board had a vision to transform Michener to keep the school at the forefront of health system change," said Maureen Adamson, former CEO of The Michener Institute. "We saw joining forces with UHN as an ideal strategy to realize this vision.
"For patients, it ultimately means feeling confident that the person treating you has had the best education, anchored in current research and best practice in health care where patients are always first."​​