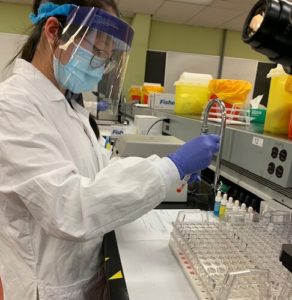 This past January, 74 Medical Laboratory Science students at the Michener Institute of Education at UHN completed their program and prepared to join the fight against Covid-19. Even before writing their licensing exam in February, many of these students were conditionally hired to work in labs, and some of them, to perform Covid-19 testing.
Michener's graduates are competent to work in any of the five disciplines of Medical Laboratory Science: Microbiology, Transfusion Medicine, Hematology, Histology and Clinical Chemistry. As Medical Laboratory Technologists, they will operate behind the scenes to perform diagnostic testing on samples of bodily fluids, tissues and cells.
The majority of Covid-19 swabs currently undergo Polymerase Chain Reaction (PCR) testing in labs to detect the presence of an antigen that indicates if a person is infected with the virus. The process involves several stages and can be labour intensive.
"We acquired a quantitative real-time PCR (qPCR) instrument, which performs the PCR amplification of DNA in real time for the students to learn and work with during their last didactic semester," says Lisa Rosenberg, Medical Laboratory Science Professor. "The students also learn the workings of the conventional PCR."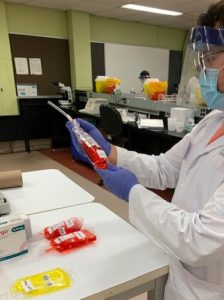 Their extensive, rigorous and in-depth learning at Michener are what makes them adaptable and flexible enough to transition into a clinical setting, and eventually, into a career in any of the departments.
In microbiology, the students focus on honing essential skills in order to identify the organisms causing an infection and determine which antimicrobials will inhibit their growth.
During their program, the students also learn techniques to assess diseases related to the destruction of red blood cells, adverse effects of transfusion, how to perform laboratory assessment and diagnosis of anemias and abnormal white blood cell disorders, how to prepare tissue biopsies for diagnostic examination, how to run blood or body fluids to detect substances, drugs and hormones and much more.
"We've received great feedback from clinical coordinators and educators about how impressed they are by our graduates and how they've seamlessly adapted to working in the field," says Julie Wan, Medical Laboratory Science Professor.