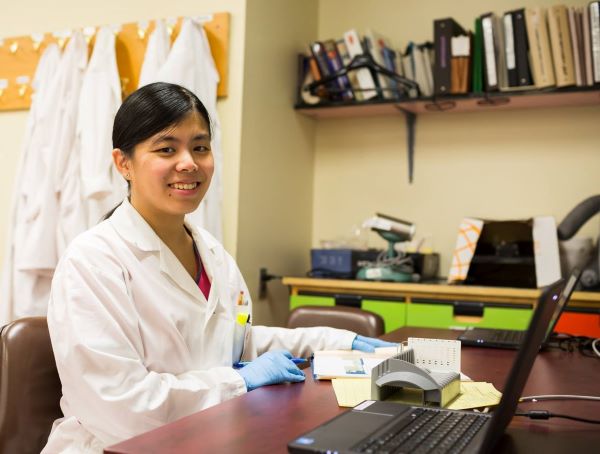 With less than two weeks to Convocation, more than 200 Michener students from fields including Medical Laboratory Sciences, Respiratory Therapy, Medical Radiation Sciences, Chiropody and Ultrasound are preparing to graduate and enter their chosen professions.
For Medical Laboratory Science graduand and 2017 Valedictorian Judy Tran, she's just getting started. As a student, Judy was the 2014 First Year Representative and later 2015-2016 President of the Medical Laboratory Students' Society (MLSS), Spring Fling student recruitment volunteer, and Multiple Mini Interview (MMI) rater and circuit manager. Outside the laboratory, she is a science, technology, engineering and mathematics (STEM) educator, a researcher and an avid volunteer for the Canadian Society for Medical Laboratory Science (CSMLS) and Toronto Youth Cabinet.
UHN News asked Judy about her time at Michener and what she's looking forward to most in the future.
As the Class of 2017 gets ready to graduate on June 24, tell us what inspired you by using #MichenerGrad17 on Twitter, Facebook and Instagram.
Why did you to go into Medical Laboratory Science?
During my time as an Immunology student at the University of Toronto, I spent a lot of time in the lab, though it wasn't until the end of my undergraduate career that I heard about the Medical Laboratory Science program at The Michener Institute and its hands-on curriculum and clinical placement opportunities.
I've always been eager to become a health care professional because we will all, unfortunately, be affected by illness or disease at some point in our lives. Recognizing that I could directly contribute to the diagnosis, care and treatment of patients was inspiring in and of itself. Medical laboratory science is also one of the few careers where you can contribute to someone's care from the beginning to the end of life. Today, I am proud to have become the first and only health care professional in my family.
Who or what had the biggest impact on your overall success at Michener?
The biggest impact on my overall success at Michener was undoubtedly the relationships I developed here. The faculty and clinical educators are not only knowledgeable, but also passionate about teaching. They work tirelessly and go out of their way for their students. My peers are always eager to share strategies and resources to help each other succeed. Michener staff, administration, donors and alumni have always been extremely friendly, generous and supportive.
Of course, I would be remiss not to mention the lifetime of encouragement, love and support from my family, especially my mother.
Where do you see yourself in five years? Ten years?
In five years, I hope to earn a Master's degree while continuing to work as a medical laboratory technologist (MLT). I also want to continue working with CSMLS and promote student-centered education.
I don't know where I see myself in ten years, but I hope that I'll be in a position where I'll still be challenging myself while giving back to the community. For the time being, however, I want to work hard at becoming a better and more experienced MLT.
What is the single biggest accomplishment that you're most proud of from your time at Michener?
The biggest accomplishment that I'm most proud of from my time at Michener was serving as President of the Medical Laboratory Students' Society (MLSS) in the 2015-2016 school year. As a team, we were one of the most active student groups on campus and hosted many 'Lunch and Learn' sessions and social events. We fundraised for the Leukemia and Lymphoma Society of Canada and the Canadian Cancer Society. We collaborated with the University Health Network to promote National Medical Laboratory Week and worked with Médecins Sans Frontières/Doctors Without Borders so students could learn about how they could contribute to its international humanitarian efforts.
What advice do you have for future Michener students?
One of the best pieces of advice I've ever received is: "Never say no to yourself."
As a Michener student, you will be presented with numerous opportunities to learn and to grow, even though you may not immediately recognize them as such. Take advantage of all your school has to offer; Michener's tight-knit community means that even if an opportunity doesn't exist, you can create one. Even if you're unsuccessful or don't enjoy the experience, you can at least rest assured that you don't have to regret not trying and denying yourself the opportunity. You never know where it may lead you!
Any special message to the Class of 2017?
First of all, congratulations! We made it! We're graduating at an exciting time. It's a time when artificial intelligence, machine learning, big data and data science present exciting possibilities for the world and for the future, and technology is moving faster than ever. Even though change may be slow to occur within institutions and organizations, as health care professionals, it's an important reminder to stay engaged and educate yourself to get ahead of any technological and systemic changes that may occur. The ability to recognize opportunities, be adaptable and move in new or unexpected directions is a great skill that will serve you well, no matter what your interests or aspirations may be.
The Michener Institute of Education at UHN will be celebrating the Class of 2017 at Convocation on Saturday, June 24.