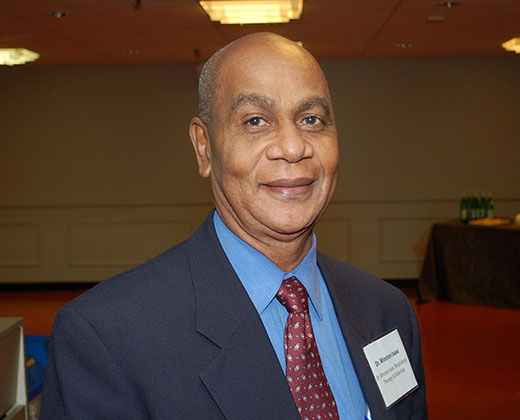 We are deeply saddened to share that Dr. Winston Isaac, Michener alumnus and previous faculty member, passed away on February 15, 2019.
Dr. Isaac was a key part of the Respiratory Therapy program at The Michener Institute for almost 20 years – first as a student starting in 1971, then as a Clinical Coordinator in 1976, and later as the Program Director until 1989. In 1995, Dr. Isaac began teaching health policy and health human resource management at the School of Health Services Management at Ryerson University, where he later became Director.
Dr. Isaac's role at Ryerson University has clearly been influential, as the University established a Winston Isaac Annual Lecture in Health Care Services. Even after he retired, Ryerson continued to invite him back to be Course Director for the practicum and practicum seminars.
Dr. Isaac received his Master's in Education from Central Michigan University, as well as a Master's of Public Administration from Queen's University. He also received his Ph.D. in Adult and Continuing Education from Michigan State University. He was an active contributor to the health care sector, founding the non-profit Walnut Foundation that focuses on building awareness of men's health, and serving on several boards, including the Central West Local Health Integration Network.
Dr. Isaac was awarded the honour of Alumnus of Distinction by The Michener Institute and was the 2017 Honorary Diploma recipient. He also supported a Michener Respiratory Therapy student scholarship in his name.
What made Dr. Isaac so special to the field of Respiratory Therapy and health care in general was his commitment to education, peer learning and student mentorship. He understood that nurturing and developing health care students today will lead to better patient outcomes tomorrow.
Dr. Winston Isaac meant a great deal to our institution and Michener has lost a wise, thoughtful and dedicated teacher, leader, mentor, colleague and friend. We will never forget his contributions.
Friends and family will be received at the Ward Funeral Home 'Brampton Chapel' on Friday, February 22, 2019 from 2 – 4 pm and 7 – 9 pm. A Funeral Service will be held at St. Peter and St. Simon the Apostle Anglican Church on Saturday, February 23, 2019 at 11 am with visitation at the Church one hour prior.
To view Dr. Isaac's obituary, click here.