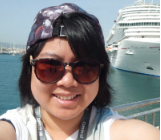 The Recent Graduate Award from the Ontario Association of Medical Radiation Sciences (OAMRS) recognizes a graduate from an accredited Canadian program who demonstrates outstanding promise and achievement in patient care, leadership, team development, volunteering, promoting the profession or willingness to learn and go out of their comfort zone to advance their practice.
Congratulations to Michener alumna Jennifer Dang on being the 2019 recipient of this award!
Jennifer completed the Michener/University of Toronto Radiation Therapy program in 2016 and continued on to enter our Magnetic Resonance Imaging program, graduating in 2018.
Jennifer is currently a clinical teacher at the Princess Margaret Cancer Centre, and she stays involved in Radiation Therapy research. Her latest research project was a poster at the RTi3 Radiation Therapy Conference.
This year, 77 professionals were nominated to receive an OAMRS Award. This record number of nominations not only shows the depth and diversity of the profession, but the spirit in which those in the field value and respect their co-workers.