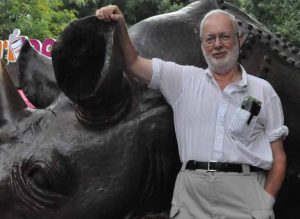 A focus on preventive foot care would considerably reduce the number of lower extremity amputations being performed on diabetics, says Tom Weisz, a 1998 Michener chiropody graduate.
Tom is advocating for early intervention and treatment of the open foot wounds diabetics too often experience. If left untreated, infections can set in requiring some part of the toe, foot or leg to be amputated.
"I've taken on the minor task of trying to change the health care system," says Tom wryly.
As a passionate volunteer dedicated for supporting patients with diabetes, Tom founded the Foot Care Special Interest Group in 2016 as part of the Professional Membership Section of Diabetes Canada to address the needs of a segment of patients currently experiencing "no organizational system of care."
By hitching his advocacy campaign to the Special Interest Group, Tom hopes to fill a major gap in health care, which he says is denying diabetics the specialized foot care they require.
"We're bad at preventing the situations that lead to amputations," explains Tom, himself a Type 2 diabetic. "Ontario averages a leg or foot amputation every four hours. About 85 per cent of these are preceded by ulcers and about 85 per cent of both the ulcerations and amputations are preventable."
The Foot Care Special Interest Group is for any professional member who is interested in foot care and focuses on sharing evidence-based best practices and encouraging discussion around healthy foot care.
During his 20-year chiropody career, Tom practised in both private and public sector clinics, initially in Ontario and then in Saskatchewan. He returned to Ontario in 2012 and practised at Compass Community Health until 2017. Before retiring, Tom worked part-time for six months in the Diabetes Education Program at Six Nations Health Services in Ohsweken, Ontario.
Working in the front lines of health care and having a taste for social advocacy gave Tom his drive to push to improve preventive diabetic foot care.
"One day, I'll die of something," he says. "But it won't be of boredom."