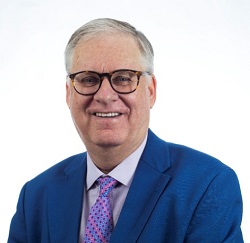 Dr. Daniel Andreae, Michener Board of Governors Voting Member, was recently inducted into the International Association of Top Professionals (IAOTP) Hall of Fame.
While inclusion with the International Association of Top Professionals is an honour in itself, only 10 honoured IAOTP members are inducted into the organization's exclusive Hall of Fame. These special honourees are distinguished based on their longevity in their fields, the contributions they have made to society and the impact they have had on their industries. Dr. Andreae will be honoured at IAOTP's annual awards gala at the end of this year in Las Vegas for not only this award, but also his selection as "Professor of the Decade."
Dr. Andreae is being recognized for having more than two decades of professional experience in higher education, his dedication to the profession, his originality of thought and his passion for educating himself and those around him. He was also recently honoured at IAOTP's Annual Awards Gala at the Plaza Hotel last year, where he won Man of the Year & Male Visionary of the Year for 2019.