On Wednesday, November 19, Michener celebrated the achievements of its students and the generosity of its donors at the Student Awards Ceremony. The annual event brings together the Michener community to honour scholarship and bursary award recipients and the donors who help contribute to academic success at Michener.
"The Student Awards Ceremony recognizes your hard work, your commitment and your tenacity in becoming a healthcare leader," said Michener's President and CEO Maureen Adamson in her welcoming remarks. "To the donors," she added, "Evenings like this wouldn't be possible without people like you. Donors are very special people who show leadership with cause and lead with their hearts."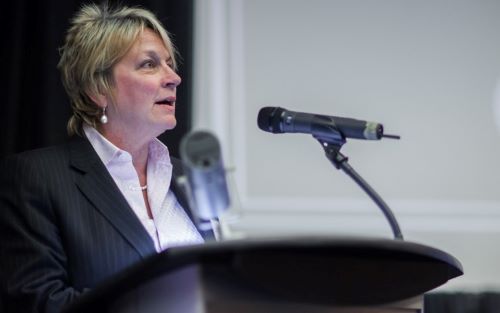 The generosity of Michener's scholarship donors was appreciated by all of the award recipients, many of whom had the chance to meet their benefactors during the reception. That gratitude was most evident when Dr. Diana Schatz, founder of The Michener Institute, presented the Dr. Diana Michener Schatz Scholarship to a standing ovation. The audience, made up of Michener students, faculty, staff and donors all rose to their feet to honour the legacy that Dr. Schatz has created at Michener.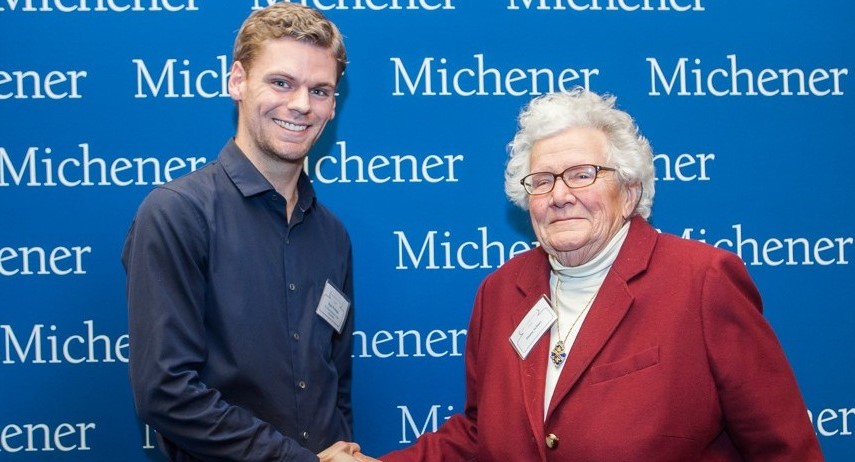 This year, two new scholarships were added: The Kyoom Abdool Scholarship of Excellence in Respiratory Therapy, named in honour of Michener alumnus and former Respiratory Therapy instructor Kyoom Abdool, and the Academy Foot and Orthotics Clinic Scholarship, established by Marz and John Hardy. The 2014 ceremony saw 64 scholarships and bursaries awarded to 49 students. This year, thanks to the generosity of the donor community and in recognition of the exceptional performance of students, Michener awarded over $84,000, the most ever granted at the Student Awards Ceremony.
For students, these awards are more than just scholarships. They represent support that lets students flourish. "These awards can have a profound effect on students and their future careers," says Abby Sirisegaram Cole, the Master of Ceremonies for this year's Student Awards Ceremony. She credits Michener's student awards for getting her to where she is today.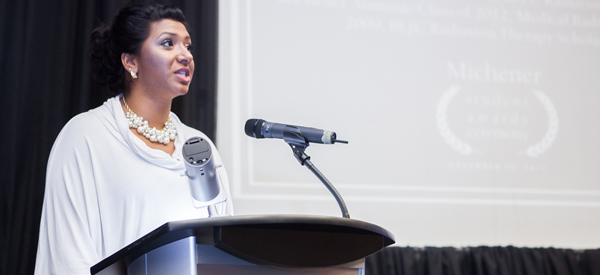 Abby's journey started on a cold Tuesday morning in March 2011. Walking to her clinical placement at The Ottawa Hospital, Abby slipped on a patch of ice, breaking her ankle in two. She immediately had emergency surgery and wouldn't be able to walk for three months. Only six weeks away from completing her placement, Abby was devastated. "I couldn't work as a Radiation Therapist because you have to be treating people on your feet right away," she says.
Already burdened by student debt, the costs associated with her recovery jeopardized Abby's opportunity to stay in Ottawa and take on a research job with her clinical educator at the hospital. She stayed in Ottawa, but recalls the scholarships "really helped support my transition from being a student to working in research. It eased a lot of heartache and stress."
While in Ottawa, Abby worked with The Ottawa Hospital as a Research Radiation Therapist. She published and presented research and attended an international conference in the field of radiation sciences, all while undergoing rehabilitation and working almost entirely from a wheelchair.
"It was a really tumultuous time so receiving the scholarships really gave me that little bit of a boost," she says. "For students, they can make a world of difference. I was so appreciative."
For third-year Medical Laboratory Sciences student and award recipient Elizabeth Pickles, she too acknowledged in the event's closing remarks that the donor's generosity through the awards program is empowering.
"The donors have given us a fantastic and far-reaching gift tonight," says Elizabeth, "They have sparked a torch that will burn throughout our careers."