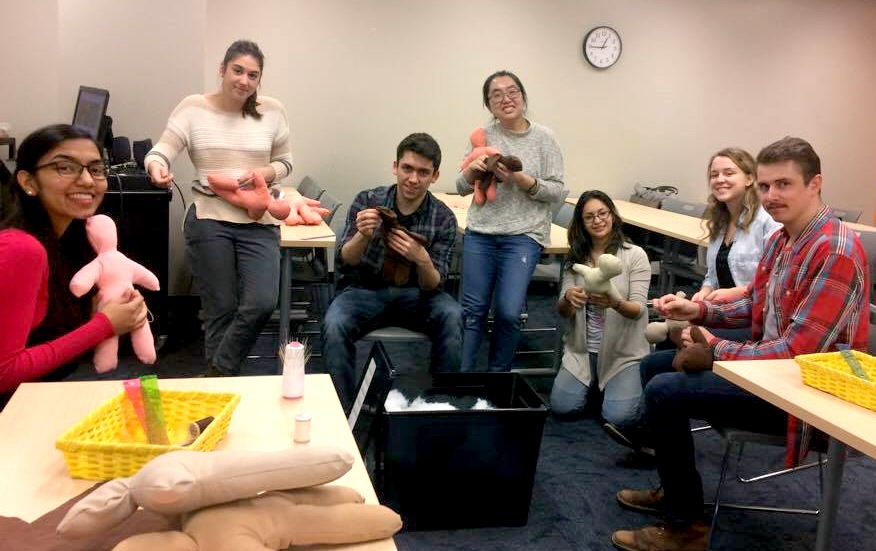 This workshop literally had the students in stitches.
Volunteers from the Charity Committee at The Michener Institute of Education at UHN recently held a surgical doll workshop with the help of Project Sunshine, a non-profit organization that provides free educational, recreational and social programs for children and families facing medical challenges.
"All the dolls made with the help of our Michener students and staff will go to SickKids Hospital," says Richa Shah, an executive member of the Charity Committee and a respiratory therapy student at the institute. "As a group of seven or eight volunteers, we made approximately 30 to 35 dolls in two hours."
The Charity Committee has previously worked with Project Sunshine on events for patients at SickKids. The surgical doll workshop was their latest annual collaboration.
Surgical dolls, also known as medical play dolls, are used as a communication tool for young children who are ill or experiencing pain and discomfort. Children can use the doll to indicate where they are hurting, and medical staff can use the doll to explain procedures.
If a child is receiving an IV needle for the first time, the procedure is first demonstrated on the doll, giving the child a greater understanding of what they will experience, helping to alleviate their fears.
Volunteers leave the dolls' faces and gowns blank, allowing the children to individually personalize them with markers and patches. This experience often helps the child develop a personal bond with their doll.
Ideally, the doll will become a comfort item, providing a sense of security as they continue through the treatment process together.
The collaboration with Project Sunshine is one of many charitable initiatives that the Charity Committee undertakes each year. Working with Project Sunshine and SickKids is particularly important, Richa says, because of the impact they can have on the young patients they work with, helping them feel like a so-called "normal" kid while they are in hospital.
"When we're volunteering for an event at SickKids, we're encouraging the patients to come out of their rooms," Richa says. "These experiences help create a positive environment, which will make their stay in the hospital more comfortable, less lonely and possibly shorter."
Membership to Michener's Charity Committee is open to all past and present students, faculty, staff and clinical and non-clinical partners of The Michener Institute. Meetings are held twice a month at the St. Patrick Campus, and all students are welcome to attend. For more information, please email charitycommittee@michener.ca.